Fourth culinary contest off to sizzling start
09-October-2012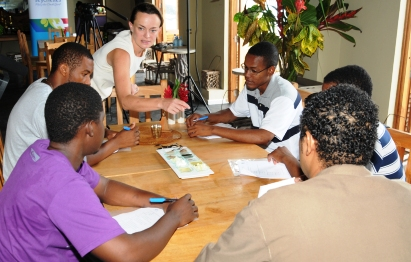 The preliminary round for the starter competition took place at La Plage restaurant yesterday and was supervised by International Sales and Promotion Company (ISPC) chief executive Alfred Fourcroy.
The competition was made up of a theoretical paper where contestants answered 40 questions regarding food and cooking. Part two of the challenge was to taste and name a variety of ingredients.
Mr Fourcroy explained that the competition is subdivided into starter, main course and dessert and the five best from each category will enter the finals where they will have a chance to win a trip to the five-star Hilton Abu Dhabi hotel with Air Seychelles – business class – along with €500 as pocket money sponsored by Cable & Wireless.
Selected jury for the finals are expected to be world class 2 Michelin star chef Lionel Rigolet from the famous restaurant 'Comme Chez Soi' in Brussels, Belgium.
Also part of the jury is food designer and co-owner of La Plage Restaurant Christelle Verheyden, Seychelles Tourism Academy principal Flavien Joubert and Chef Philippe Emond.
Last year's winners were Pat Monthy with the best starter, Steven Gendron for main course and Yanne Ladouceur for best dessert.