Up-Close ... with Joseph Sinon, jack-of-all-trades in the music and theatre industry-Tickling your funny bone Pa Tous Tous style!
09-October-2012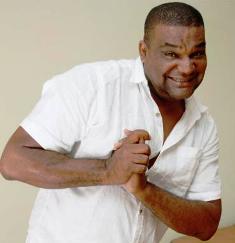 "All right. So there was this guy who always finished work in the early hours of the morning, say 4 to 5am. One day after finishing work he was really hungry, but only found an Indian take-away that was selling super-hot curry. He bought one and after arriving home, decided to take a shower, after which he would enjoy his food in front of the television," he said smirking at me.
"However, when he got out of the shower, he found to his dismay that the cat had eaten all his food. In a fit of rage, he grabbed the cat, took it outside and threw it inside a barrel full of water, and then weighed the cat down with a heavy piece of wood. He went back inside, but being a religious man, immediately regretted his actions. He went outside, deciding to at least bury his cat.
"Upon lifting the heavy piece of wood from the top of the barrel of water, instead of finding a drowned cat floating at the top, he saw his cat staring back at him from the bottom of the barrel, panting heavily.
"Without blinking, the cat said to him 'Hey! That was one heck of a curry! You don't have any more water I could drink, do you?'"
And THAT was how my tête-à-tête with one of Seychelles' most widely-known comedians and artists kicked off.
Joseph – The story behind the man
Joseph Sinon -- artist, musician, dancer, singer, master of ceremony, (have I missed out anything here?) -- is from a family of nine children who grew up at Mont Buxton and attended school at St John Bosco, Belonie, and La Rosière. He says life was hard at that time, a hardship that most young people today have not even heard of.
"We were so poor that patched clothes were the norm for us, breakfast before going to school was some leftover rice from the previous night's dinner soaked in a cup of tea. If on the way to school we saw fruits that had been bitten by bats, we simply ate the other side and paid no mind to what sickness we could have gotten. After school we had to go gather firewood in the woods, and sometimes we would see ghosts, and run screaming back to the house," he recalled.
"I had a father who drank a lot and each night would come home drunk and create all sorts of problem. It was tough, especially since he had served in the army, and would come home late at night and yell at us to 'Fall In' formation. He would take us out into the street in the dead of the night, armed with brooms as our guns, and make us parade the roads. Woe betide us if any cars were coming, as we would have to throw ourselves into the gutters, as cars were considered as 'the enemy' approaching."
Joseph said he took all this in stride though and even learned to appreciate the funny side of it all, despite losing so many hours of precious sleep. It was these events that, according to him, inspired him to become a comedian.
"My mother was a disciplinarian though, and was very strict where we were concerned. In fact, I only attended my first Regatta at the age of 19, and the last beating I got from my mother was when I was practically an adult and in my first year at the National Youth Service!"
After finishing school, he went on to be in the first group of young people to join the former National Youth Service (NYS) in 1981, and after that joined a local hotel school.
"I was training to be a cook, and one of the things I hated most about the school was the fact that every day we had to prepare all types of dishes, which only the teachers got to eat. We never got to enjoy our culinary creations but had to sit back and watch as our teachers enjoyed them, and of course I had to fight back at that, but the damage had been done and I left soon afterwards," he said.
Joseph went back to the NYS, this time as an employee, and spent 12 years there.
Today, Joseph has a 19-year-old son, which he said completes his family life. At home, he said, he is definitely not the comedian we all have grown to love on stage.
"The funny side to my personality comes out when I'm with friends and colleagues, but when I'm at home, I'm a different guy, more concentrated, more focused on my entourage."
Hobbies
In his spare time Joseph enjoys cooking and watching movies. He used to be a keen sportsman, especially in volleyball, and was even part of the national team until, during a routine training session for the Indian Ocean Island Games in 1993, he landed wrong on his feet, hurt his knee and has been unable to play the sport since.
He does, however, play badminton three times a week to keep fit, especially as he needs lots of energy to be able to do all his dance routines, plus all that running and jumping around on stage!
"I never use alcohol before or during a performance, as it breaks my concentration and makes me tired, and I wouldn't want to run out of energy just when I've got my crowd in
hype," he said.
Controversial performances or simply a weak-hearted audience?
I asked him about whether he thinks some of his stage performances are not appropriate for children.
"Each person has their own opinions on my performances, and while not everyone will see it in the same way, I do not think that they are not appropriate for children. Truth be told, I don't really do anything indecent on stage. But how come some people will see it as indecent if I remove my shirt on stage, while they might pay to see a body-builder flexing his muscles on stage, clothed in only a small underwear?" he remarked.
"If I dance provocatively, is it any more so than the many other dancers in the country who perform other types of dances in a much more provocative and sometimes downright vulgar manner? But as I said, everyone has their own opinions."
Influences in comedy and music
By now, I wanted to know what else made him tick, and asked who else apart from his father had influenced him as a comedian.
"Richard Prior for one. He was an amazing stand-up comedian. There's also Bill Cosby and Sydney Poitier. Movies like Uptown Saturday Night (1974) has also impacted on me, as well as the comedy Sanford and Son (1972-1977), which I have a collection of. Locally, one of my inspirations is Alain Belle, who starred in Bolot Feray, and who I co-starred with in Le Bourgeois gentilhomme and Le Médecin malgré lui, " he said.
As for his musical career, he said he was sitting inside a music studio one day, many years ago, listening to an album being recorded. The musicians asked him to add a song to the album, to which he said he had never written a song nor sang one in his life.
"After some persuading, I gave in and worked on a song – just to get them off my back – which I later recorded. One song then became two, three and here we are today!" he laughed.
In fact, it is mostly by his music and comedies that Joseph earns a living, where he manages a musical group called Tanmi, which he said is now at its peak and he considers it one of the best cabaret groups in Seychelles.
"We've travelled to places like Mauritius, Rodrigues, United Kingdom, Switzerland, France and Germany, met so many celebrities, including even a Sheikh and have performed for events like Miss World, the opening of local places like Cap Lazare, and Banyan Tree, but are now performing mostly for the Hilton Labriz and Four Seasons resorts," he boasted.
"There are a number of shows locally which I have initiated, like an open-air show to mark the birthday of the legendary late Robert Nesta 'Bob' Marley, a Sega Night, and a Creole Ball, for which there is a high demand for a repeat."
Favourite piece of work
When it comes to his favourite piece of work, he made no bones about choosing his role in the Le Bourgeois Gentilhomme play, and the Loula moutia song.
"I actually wrote Loula while sitting on my father's grave one day. I asked him for guidance in writing a song, and before I knew it, I had grabbed a piece of paper and my hand was flying all over the page with the pen and I shouted: 'Hey Daddy, is that you or me writing this song!" and there you have it, Loula was born," he laughed, rocking his chair with glee.
Upcoming projects
Joseph said he travels to Mauritius several times a year to take part in comedy festivals there, a place he said he very much enjoys performing at.
"I'm working on a new DVD too, which will have on-site filming, and which I hope to release for Christmas. For example, if I'm doing a sketch about dentistry, I'm going to a clinic to film it.
If it's a sketch about the airport, I'll be heading there with my film crew. But for now, I'm at the stage of asking permissions for the locations, and will take it from there," he said with confidence.
"It's also been six years since my last CD, so after caving in to the demand I'm now working on one, but don't ask me when it will be released! We have also prepared new songs for the shows Tanmi will be putting on soon. And to wrap up the year, my Mauritian friends in the Komiko group will be coming down to Seychelles, where we will have a stand-up comedy and one-man show competition, and we will finish the year with a Creole Ball at the Vye Marmit restaurant at Au Cap."
Those of us who are old enough to remember – me included – will not forget the 'Pa Tous Tous' advert Joseph made for the Penlac paint company all those years ago, and which has today earned him the nickname. It is exactly with this expression 'Pa Tous Tous' that Joseph says he is aiming to launch a brand next year, under which will fall all sorts of items.
"There will be caps, shoes, clothes, all sorts of things under the Pa Tous Tous brand, which will also have its own shop and fan club," he said.
Any last words (for the funny bone)?
Having had my funny bone well and truly tickled, I asked for one last joke to wrap up things and to leave my side aching.

Not pausing to even think, he bombed me again.
"There were these boys at a certain school, who as boys tend to do, had been up to all sorts of mischief. And they had to go to confession before they could receive the Holy Communion. During confession, the first one came up to the priest and confessed that he had stolen sugar and had also thrown popcorn into the river.
The priest, bemused, told him to say some Hail Marys and let him go. The next boy came up and said he had lied and has also thrown popcorn into the river. Still amused, the priest gave him his punishment and waited for the next one.
This went on for a while and the priest had racked up all sorts of 'sins' but somehow all the boys had confessed to throwing popcorn into the river.
Then, the last boy came up, and confessed, but strangely did not say a word about throwing popcorn into the river.
The priest was curious and said, 'And how come you haven't thrown popcorn into the river as well?'
The boy replied, "Because, Father, I AM Popcorn!"
Tickling your funny bone, Pa Tous Tous style!
By Ivan Hollanda