Tough, exciting competitions on Regatta weekend
10-October-2012
After Ziad Al Adou Mekdachi had flexed his muscles on stage at the Coral Strand hotel on Friday night to win the Mr Regatta title in front of nine other contestants, the action was on the road, beach and sea on Saturday and Sunday.
In the traditional road race on Saturday, the winners were Marie-Noella Larue (female junior 5km 22 minutes 01.9 seconds), Keddy Moustache (male junior 5km 17 minutes, 43.4 seconds), Sharon Agathine (female senior 10km 1 hour 39 minutes 16.2 seconds), Iven Moïse (male senior 10km 41 minutes 30.1 seconds), Florise Ernesta (female master 5km with 17 minutes 00.1 second) and Herbert Adrienne (male master 5km with 12 minutes 05.5 seconds).
Lioness retained the women's Heineken-sponsored beach football title with a 5-2 win over Beau Vallon in the final, while Beau Vallon men's team needed a penalty shootout to take victory. With the score tied 1-1 after normal time, Beau Vallon scored three penalties compared to opponents Kan Menm Ti A Ou's 2 to celebrate a win in front of their fans.
Bijoux brothers Bernard and Guilly of the Beau Vallon volleyball team also did their home fans proud with a come-from-behind 2-1 (18-21, 21-13, 15-9) win against the pair of Caleb Souffe and Jean-Paul Mellie in the men's beach volleyball final.
Melina Crispin and Hillary Nourrice teamed up to win the women's beach volleyball tournament which attracted five teams. They beat Petrina Victor and Terille Songoire 2-1 (25-11, 20-22, 15-9) in the final.
Cable & Wireless sponsored the beach volleyball event and its chief executive Charles Hammond was on hand to reward the top three female and male teams.
The ironman and ironwoman competitions were contested by teams of three – swimming, canoeing and running – on Sunday afternoon.
After the leading Swimmers squad of Adam Viktora, Ryan Govinden and Shane Mangroo could not finish the race as Mangroo twice capsized in the final canoe leg, Challengers, made up of canoeist Tony Lespoir, swimmer Claude Adeline and long distance runner Keddy Moustache, took the momentum to win in 14 minutes 21.4 seconds.
Lifeguard comprising Randolph Jeannevole, Stephan Morel and Richard Louange (16 minutes 04.9 seconds) and Sharks made up of Ian Nibourette, Dean Hoffman and Stevio (16 minutes 57.6 seconds) finished second and third respectively in the male category.
The winning female team comprised Aurelie Fanchette, Clara Omath and Felicity Passon. They won in 20 minutes 40.3 seconds – the fifth fastest time.
Lucy Talbot, Joana Istrale and Pene Vogt made up the team who finished as runners-up in a time of 25 minutes 20.4 seconds.
In third place were the trio of Anisha Payet, Lela Rigamonti and Alice Rigamonti in 26 minutes 08.6 seconds.
Tony Lespoir was again the winner in the men's canoe competition, finishing ahead of Randolph Jeannevole, Eric D'Unienville, Travis Ernesta and Andy Victor.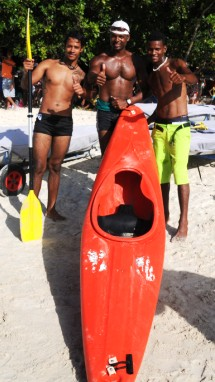 In the men's Laser competition, Rodney Govinden and Alan Julie were tied on five points, but it was the former who was declared the winner. Rodney's twin brother Roy settled for third place.
Martin Servina dominated the mixed Optimist competition, finishing with five points – two less than the total of runner-up Daniella Desylva.
Elison Hoareau (seven points) and Ryan Alcindor (11 points) were ranked third and fourth.
The much-anticipated mini-Mahe race was won by the pair of Collin Barallon and Shane Brice ahead of the duo of Darren Waye-Hive and Capilo Ernesta. Third were Alex Monthy and Arnold Camille.
Only the basketball competition, slated for Sunday afternoon, was called off after the sponsors apparently backed out.
G. G.