Seychelles Farmers Association joins Pan-African body
12-October-2012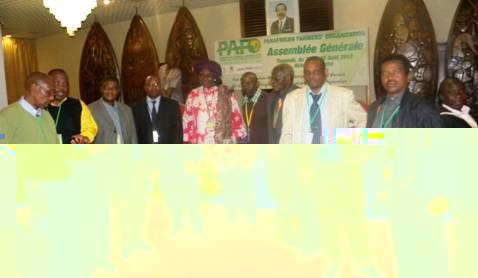 This follows SeyFA's participation at the 2nd general assembly of the Pafo held recently in Cameroon.
SeyFA was represented at the August 23-25, 2012 meeting by its chairman, Serge Benstrong.
SeyFA was part of Pafo's regional network organisation, the South African Confederation of Agricultural Unions (Sacau).
The general assembly discussed and commented on the amended Pafo constitution as well as the framework within which Pafo's strategic plan will be developed.
The constitution was reviewed based on the original copy and comments from the Pafo board meeting that was held in Nairobi.
On the other hand the discussions on the strategic plan were based on the suggestions provided by the consultant on some issues that are important for Pafo's success. New leadership for Pafo was also elected at the end of the assembly.
The agricultural sector occupies more than 70% of the rural population in Africa, but agriculture, particularly family farming, goes through great difficulties. Productivity and viability of the major farms is not guaranteed due to several factors. These include adversity of natural conditions, manifestation of climate change, low public investment, ageing inadequate labour force and insufficient support. These factors expose a great majority of the continent's population to increasing food insecurity, underemployment and shrinking their resilience.
Members of Pafo believe that agriculture should conform to ethical humanism, justice and equity to guarantee the sovereignty and food security for all. To do this, access for all to quality supplies and adequate food according to the culture and traditions is an inalienable human right.
Food sovereignty for peoples and nations of Africa takes an important aspect in the implementation of policies, strategies and agriculture governance mechanisms. Such policies must also enable the preservation of the environment and biodiversity. It is in this context that African farmers have agreed to the creation of the Pafo.
-----------------------

Pan-African Farmers' Organisation (Pafo)
Vision
Dynamic, prosperous and sustainable ensures security and food sovereignty and the social economic and cultural development of Africa.
Mission
- Represents organisations of farmers and African producers at the continental and international levels;
- Defend the rights economic and social interests of farmers and African producers and their organisations at the continental and international levels;
- Promote solidarity and partnership between farmers' organisations and African producers through:
- The construction of a common view on the main challenges concerning the feeding of the population, the development of a modern and competitive agriculture and the preservation of natural resources in Africa
- Share information, experiences and knowledge in all areas of agriculture and rural development
- The search for a better understanding and considerations of deep values of African agriculture
- Influence policy and agricultural strategies at continental and international levels to take better account of the interest of African farmers
- Contribute to the promotion of trade in agricultural products and the regional economic integration