Seychelles' first resident ambassador to Ethiopia accredited
13-October-2012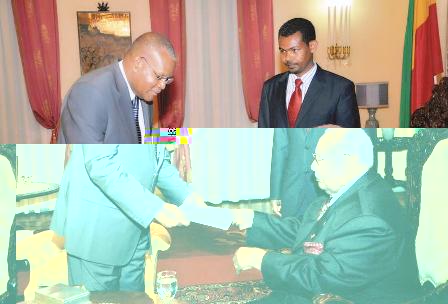 Mr Nourrice presented his credentials last week to that country's president Girma Wolde-Giorgis.
President Wolde-Giorgis extended a warm welcome to the ambassador and his family and expressed the joy in having Seychelles joining the diplomatic community in Addis Ababa.
In his opening remarks, Mr Nourrice conveyed to President Wolde-Giorgis and the people of Ethiopia the fraternal greetings and best wishes from President Michel.
The exchange focused on the recent development in the bilateral relations between the two countries, one that has taken dynamism of immense proportion.
Mr Nourrice noted that while Seychelles and Ethiopia enjoyed excellent relations at the regional, continental and multilateral levels, the engagement at the bilateral level was relatively limited until the leap this year.
Mr Nourrice said that "the setting up of the first resident mission in Addis will not only consolidate the gains of past years, but also open avenues for new areas of cooperation, including trade, investment and culture among others".
Mr Nourrice described 2012 as a landmark year in the level and scope of cooperation between Seychelles and Ethiopia. He described the events culminating in this heightened level of cooperation, being the resumption of Ethiopian Airlines' direct flight to Seychelles in April 2012, the signing of the double taxation avoidance agreement and the visa exemption for diplomatic and official passport holders in July this year.
Piracy in the horn of Africa and its impact – both social and economic – on the coastal states, including Seychelles, was one of the areas of sustained discussion.
The leadership role played by Ethiopia in the search for lasting peace in the region was commended, especially as a country sharing border with Somalia.
Mr Nourrice finally thanked the Ethiopian authorities for the help being provided in the build-up towards the setting-up of the mission in Addis, and noted that the high level of optimism by both Seychelles and Ethiopia will without doubt culminate in taking the cooperation to new heights.