Trade mission calls for more public education on consumer protection law
13-October-2012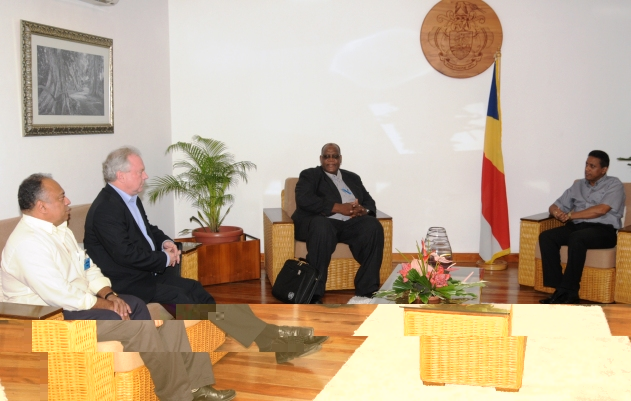 The two-man delegation of Alex Kububa, chairman of the Comesa competition commission, and Carl Buik, a consultant from the Australian competition and consumer commission, is on a week-long mission here to review the legislations governing competition and consumer protection to see how they can better benefit all stakeholders and how they can further contribute to Seychelles' economic development and growth.
Yesterday afternoon the two men, accompanied by the chief executive of the Fair Trading Commission (FTC) Daniel Gappy, called on Vice-President Danny Faure at State House to brief him on their mission.
Speaking to the media after the talks with Vice-President Faure, Mr Kububa said so far they have met a number of stakeholders and have observed that there is some level of cooperation to make competition work and also awareness on the importance of consumer protection law in Seychelles.
"But there is a need for more public and consumer education and awareness of the law so they can benefit more," he stressed.
He noted that there is some level of awareness on the part of the stakeholders but the public who are the beneficiaries should be better informed.
Following the review, Mr Kububa said the mission would submit its recommendations which UNCTAD will analyse and identify the areas which will need further help.
Mr Gappy said the mission's visit follows a request by the FTC to the UNCTAD for help with some training workshops – the first of which touched the stakeholders – was held in April.
The FTC also requested help to conduct an independent review. He said this request followed the outcome of a meeting with different parties whose main concerns were that the FTC was not doing enough.
He said the review will help identify gaps and shortcomings in the law governing the FTC.
"The economy is developing so fast and it is therefore fitting to ensure the law governing the functions and operations of the FTC are modern and up to date," said Mr Gappy.
He added that a major review will follow in 2014.
Mr Gappy said following this mission a report will be submitted to the government and all stakeholders for further action.