Exhibition on disaster reduction -Empowering women for a safer tomorrow
13-October-2012
Guests and visitors viewing the displays in the exhibition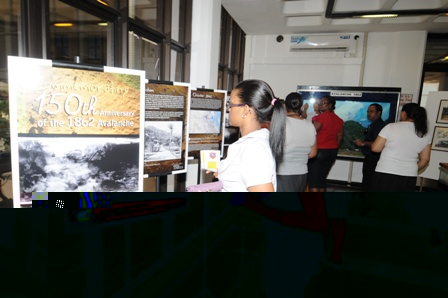 The exhibition, coinciding with the 150th anniversary of the Lavalas -- the country's worst natural calamity, showcases the roles played by such agencies as the Red Cross Society, Fire and Rescue Services, the Police, Health Ministry, the SPDF and Coastguards in constantly improving disaster risk management.
Annually, a theme is chosen on a countdown to the World Conference for Disaster Reduction in 2015, which this year is "Women and girls: the invisible force of resilience".
Before the gathering, who included Minister Designate Vincent Meriton, Cascade school teacher Catherine Magnan read out a poem on the tragedy of the great 1862 avalanche, written by Didier Confait.
Environment and Energy Minister, Professor Rolph Payet, said though we are blessed to live in a country with few natural calamities, we should not be complacent.
He noted that according to a study by the DRDM, Seychelles is at risk from a number of growing hazards, including those related to disease pandemics, such as the avian flu in the recent past, and extreme wave conditions, which have affected many of our coastal areas, such as North East Point and Mare Anglaise.
Prof. Payet said that while it is the primary responsibility of DRDM to coordinate and plan for disaster reduction, all Seychellois have a role to play toward this endeavour.
"All ministries, local administrations, communities and other groups share this important role in reducing our risk to potential disasters," he said.
He cited the example of the drive for a cleaner Seychelles, which also reduces the risk of mosquitoes breeding and as a consequence reduces the risk of diseases taking a foothold in our country.
Similarly, removing rubbish and litter from our drainage systems will reduce incidences of flooding during the rainy season.
One set of photos at the exhibition showed district emergency brigades in action, cutting grass to prevent mosquito breeding and clearing marshes to prevent flooding.
On the empowering of women and girls for a safer tomorrow, Prof. Payet quoted Kwegyir Aggrey, a visionary Ghanaian educationist, who once said: "The surest way to keep people down is to educate the men and neglect the women. If you educate a man, you simply educate an individual, but if you educate a woman, you educate a family."
Prof. Payet noted that the literacy rate of our female population is 92.3%, slightly higher than that of our male population at 91.4%, which is a significant achievement.
He noted that we have women in the army, in the police force and in the fire and rescue services.
Prof. Payet added that we also have women in key positions helping us to manoeuvre through difficulties in sectors particularly sensitive in causing or being affected by disasters.
These include disaster risk reduction, climate change adaptation, urban land use planning as well as social and economic planning sectors.
An interesting part of the exhibition focused on the December 2004 tsunami. Photos showed ships and structures damaged as waves reached up to 4.5 metres, sweeping inland. Two fishing boats were washed up under a tree at Anse Royale.
There is one photo of President James Michel and his delegation surveying damage caused by tremendous forces of waves that swept coastal Anse à la Mouche.
The Cascade and Roche Caiman bridges were not built to sustain the tsunami, which broke them down. In Victoria, when the tide was out the next day, fishing boats lay stranded atop our quays, the edge of which was seriously split.
Charles Gordon is a notable figure linked to the 1862 avalanche. Gordon, however only came to Seychelles in 1881 and is credited for having designed our country's first coat of arms, for proclaiming Vallée de Mai the Garden of Eden and above all for playing a key role in having the tonnes of earth and debris that was washed down from the mountain and hillsides to create a playing field in Victoria, which was initially named after him.