Volleyball: Division Cup finals-Friends, Beau Vallon champs
16-October-2012
The division two cup winners are La Digue (men) and Rainbow (women) who have achieved a double.
Coach Jude Preira was a happy man on Sunday as his two teams – Friends and Beau Vallon – whitewashed their opponents to succeed Cascade and Premium Spikers as champions.
Parading new recruit Lynn Tirant, Friends, who lost the 2010 final on a 0-3 (25-27, 20-25, 19-25) score to Cascade, needed only 76 minutes to dispatch Arsu 3-0 (26-24, 25-22, 25-17).
"We've won the women's division one league title and now the division one cup. Our next target is to win the SVF Cup and then the IOCC crown," said former setter Preira who captained Seychelles to victory for the first time at the Indian Ocean Island Games (IOIG) in 1993 on home soil.
Preira then changed uniform and sat on the Beau Vallon substitutes' bench to plot the downfall of Racing Club and coach Maurice Denys, who guided the country's women's team to two gold medal wins at the IOIG in Reunion in 1998 and Mauritius in 2003.
As new recruit Ricky Vel, who has played volleyball at professional level for the past five years, wore the number five shirt and joined evergreen veterans Danny Laramé and Guilly Bijoux at the net to send powerful attacks into Racing Club's half of the court, Beau Vallon were too strong for coach Denys' team whom they trounced 3-0 (25-20, 25-17, 25-18) in 62 minutes.
"It was quite an easy win and we are now looking forward for the SVF Cup," said Preira, whose team will be bolstered by the arrival of Seychelles setter Jones Mangroo, who skippered the country's men's team to IOIG triumph last year.
Meanwhile, on court B, Rainbow had no trouble beating St Louis Bombers 3-0 (25-9, 25-14, 27-25) after in just 54 minutes in the women's division two cup final to complete a league and cup double.
The men's division two cup title went to La Digue following their 97-minute 3-1 (25-14, 25-21, 19-25, 25-23) win over Juniors to make it a league and cup double.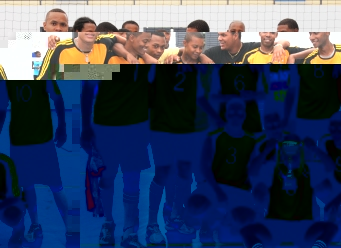 ----------------------
Transfer of players
Guy Valentin from Neo Boyz to Premium Spikers
Caleb Souffe from Neo Boyz to Premium Spikers
Rickey Vel (new player, was without a club)
Daniel Rose from Racing Club to Anse Royale
Rona Dubignon from OSC Comets to La Digue
Lynn Tirant from OSC Comets to Friends
Juliette Victorin from OSC Comets to Cascade
Mandy Payet from OSC Comets to Arsu
Matty Molta from OSC Comets to Arsu
Annette Rose from OSC Comets to Rainbow
Naddy Vidot from Anse Royale to Neo Boyz
Jean Edmond from Airwaves to Anse Royale
G. G.