Vallée de Mai: a site of excellence
22-October-2012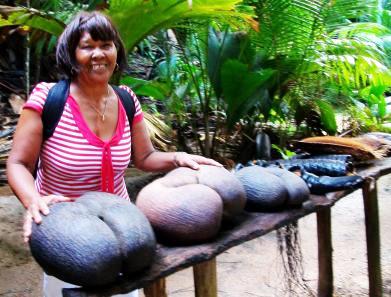 The UK-based Tripadvisor website is the world's largest travel website and collects feedback from holidaymakers about their travel experiences, allowing them to praise the best holiday destinations and criticise those that fall short of their expectations.
The Vallée de Mai was awarded the Certificate of Excellence after consistently achieving a score of 4.5 out of 5 by travellers who reviewed the site on the Tripadvisor website. The award of the certificate puts the Seychelles Islands Foundation (SIF) managed site in the top 10% of global tourist attractions rated by Tripadvisor's 60 million reviews and opinions.
The Vallée de Mai is home to numerous endemic species, most famously the coco de mer palm and Seychelles' national bird, the Seychelles Black Parrot. It has been certified as a Unesco World Heritage Site since 1983 and attracts around 40% of all tourists who visit Seychelles.
The award of the Tripadvisor Certificate of Excellence is testimony to the environmental management and conservation undertaken at the site, as well as the hard work of SIF's frontline staff at the Vallée de Mai, who meet, greet and assist around 80,000 visitors per year.
"SIF is used to receiving praise for its environmental work at the Vallée de Mai and Aldabra. The award of the Tripadvisor Certificate of Excellence is a welcome indication that the SIF staff at the Vallée de Mai do an equally fantastic job at welcoming visitors to the site and ensuring they experience the very best of the Vallée de Mai. We are extremely proud of their hard work," said Dr Frauke Fleischer-Dogley, chief executive of SIF.
The Vallée de Mai enjoys a reputation for environmental excellence which predates its inclusion as a Unesco listed site. Visitor experience has been enhanced to match this in the last two years following major investment by SIF which has resulted in the redevelopment of the site's Visitor Centre, which now boasts a cafe, souvenir shop and education centre, as well as housing the Vallée de Mai research department.
The benefits of the investment are highlighted by the award of the Certificate of Excellence, as well as in the continuous monitoring of visitor satisfaction by SIF, compiled in a monthly report, which shows a consistently high level of approval among visitors to the Vallée de Mai.
Contributed by the SIF