Seychelles urges more Comesa input in anti-piracy efforts
24-October-2012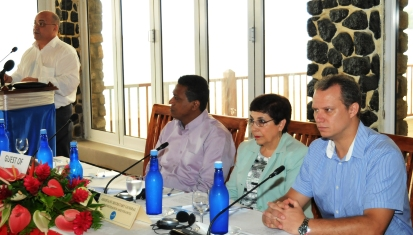 Mr Pool addressing the delegates on Monday. On his left are Vice-President Faure, Comesa's assistant secretary general Nagla El-Hussainy and Foreign Affairs Minister Jean-Paul Adam
The call was reiterated on Monday by deputy speaker of the National Assembly Andre Pool when Vice-President Danny Faure launched the Common Market for East and Southern African (Comesa).
"During your deliberations on this subject I am sure that a lot will be said, but it is most important to discuss and agree on what Comesa and the rest of the world can continue to do about the threat and effects of piracy as a symptom of the war economy in the Indian Ocean and especially along the Somali Coast," he said.
Earlier, Mr Pool said everybody at the forum realises that war economy plays an important role in most violent conflicts.
"We must also acknowledge that war economy has serious negative impacts such as destruction of the formal economy and the growth of informal economy popularly known as black market, violence against civilians to acquire control over assets and to capture trade networks and an increase in arms trafficking among others."
He said over recent years we have witnessed new trends in war economy, piracy being the one closest to Seychelles, which is forcing us to deal with highly negative impacts.
"There's no doubt piracy is highly profitable, but at the same time it is undermining legitimate trade, affecting countries at all levels, has greatly affected the shipping and fishing industry in the Indian Ocean, has hit very hard at the regional tourism industry and all of these having serious impact in the Comesa region," he said.
"War economy is a serious threat to the stability of a state. It goes beyond national borders, hence the need for a regional strategy and enlisting international support. Seychelles as nation has spared no efforts in this fight. As parliamentarians we are giving all our support in that fight to create a safer place in our part of the world."

He said the workshop is giving them a chance to show their determination to play a leading role in the fight against war economies.