IMF and government in pact to secure reform programme gains
27-October-2012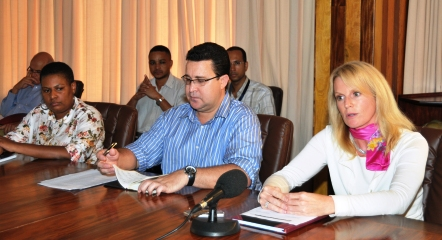 The move will come with a further US $10.23 million to be disbursed by the IMF in two portions before the end of 2013, subject to approval of the arrangement by the fund's management and executive board, she said in a press conference attended by Finance, Investment and Trade Minister Pierre Laporte and Central Bank governor Caroline Abel at the bank.
Ms Baker said the arrangement is meant to help "lock in the gains realised so far and make inroads on key reforms while building policy buffers in the uncertain global environment".
The announcement came at the end of a mission led by Ms Baker which has been here from October 17 to assess performance at end-June for the sixth programme review under the Extended Fund Facility.
The team also "discussed the authorities' request for a one-year extension of the three-year arrangement and augmentation of access.
They met President James Michel, Vice-President Danny Faure, Mr Laporte, Ms Abel, and government officials as well as representatives of the private sector.
Ms Baker said: "The Seychellois economy has shown resilience in the face of the difficult global environment."
"Economic growth has held up thanks to increasing tourist arrivals from non-traditional markets; fiscal policies have remained firmly on track towards the government's target of bringing public debt down to 50 percent of gross domestic product (GDP) by 2018; and debt restructuring is nearly complete. Monetary tightening has been successful in reversing the mid-year inflationary uptick and inflationary pressures are expected to continue their recently observed downward path," she said.
She however talked of the need to gradually adjust "and rebalance domestic utility, food and transport prices".