Barclays rewards winners of latest campaign
29-October-2012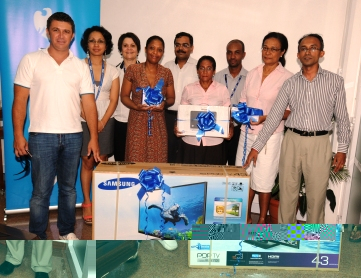 This was during a short ceremony held at the Barclays Bank branch in the Capital City building.
The campaign, which will run until December 15, is aimed at encouraging customers to make savings. Each month the bank will reward customers who maintain set balances on their current and savings accounts.
Customers who are eligible for the draws are those holding a Barclays bank account, personal current account, prestige current account, staff current account, premier current account, business current account, instant savings account and premier savings account.
For this draw, Marguerite Mancienne won two tickets to Abu Dhabi and Brigitte Choppy received an LCD television which was collected by her husband Danny Lowlam.
Jeanne Leon was rewarded with a netbook PC and Therese Payet won a digital camera, which was collected by her sister Jovanna Payet.
In a press release, the bank managing director Rakesh Jha said Barclays Bank is pleased to be able to reward its customers.
He added that through this campaign customers are rewarded for making savings.
Barclays Bank Seychelles retail director Mandeep Chaudhary said the bank values its customers and this is a small token of appreciation.