Brewery invests R60m to boost efficiency-• Chairman says move shows confidence in economy
31-October-2012


The AGM in progress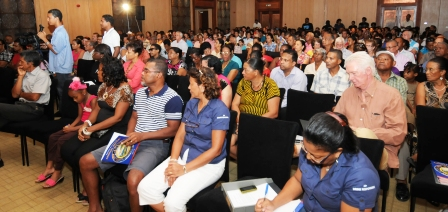 The announcement was made by chairman Nick Blazquez to shareholders attending the company's annual general meeting at the Ephelia resort on Saturday.
At the meeting, Mr Blazquez also announced R3.70 dividends per share.
He said the economy has this year been facing some challenges such as a devaluation of the rupee and a draught that cut the company's ability to produce beer and soft drinks causing a drop in their sales amid increased competition from imported products.
He said beer sales went down by 4% and soft drinks by 11% but the company products' "price rises we implemented in April went some way to compensate for the drop in volumes and the increases that we saw in water and electricity prices".
He said the company's response to the competition is "to produce brands of the highest quality and invest over R60 million to increase efficiency and reduce costs and we also plan to build our partnership with our customers".
"You can take this commitment to invest the money as our ongoing commitment to the business and our belief in Seychelles and the country's economy," he said.
The shareholders observed a moment of silence for 10 of their colleagues who have passed away since their last meeting.
The dividends announced will be credited in the shareholders account on November 12, they were told, as some proposed ways of beating the competition.
Some said producing cheaper alcoholic beverages but of higher quality than those on the "illicit market" will help the company take back some of their customers, giving Kenya, where the breweries mother company Diageo successfully experimented with the idea managed to regain some of Kenya Breweries' customers.
Some, however, told Nation that may not be a good idea because it would make cheap liqueur too readily available with "as severe health and social consequences as those many Kenyans are facing".
They reminded our journalist that the east African country's media has recently been highlighting many cases of people whose lives have been destroyed by drinking, with women in groups confronting the police and administrators about their husbands who have "been rendered useless by alcohol abuse they have been unable to control" and openly challenging the officials to "take over the social duties their drunken husbands can no longer perform".
Others at Saturday's Port Glaud meeting said drinking two bottles of beer puts drivers at the risk of being locked up for drunken driving and possibly losing their licences, and asked the company to brew less potent products, which it said it is considering.
Many shareholders urged the company to be more aggressive in exporting its beer.
The company's annual report carried illustrated full colour back-page tips on responsible drinking.