Hilton Labriz wins 'Seychelles' Leading Resort' award
03-November-2012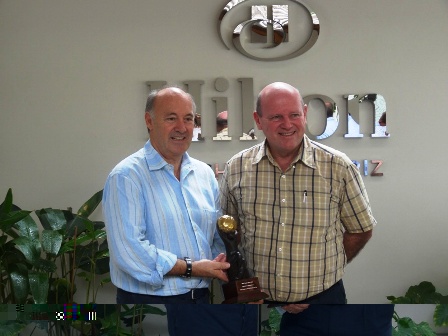 This is one of the prestigious awards of the World Travel Award, which is much sought-after by the hospitality trade.
The award was unveiled in commemorative ceremony on Thursday October 25, 2012, at the Hilton jetty by Hilton Worldwide Area President for Middle East and Africa, Rudi S. K. Jagersbacher.

The unveiling took place in the presence of Minister for Tourism and Culture, Alain St Ange, members of the local Destination Management Companies (DMCs) which included Creole Travel Services, Select Seychelles, 7°South, and Mason's Travel, vice-chairman of the Seychelles Hospitality and Tourism Association Daniella Payet Allis, and representatives of the Seychelles Tourism Board (STB).
Also present for the event were the vice-president for Operations, Africa & Indian Ocean Jan Van Der Putten, the new general manager of Hilton Labriz Claus Steiner, the general manager of Hilton Seychelles Northolme Resort & Spa Marc Schumacher, Cluster revenue manager Ahmed Abdel Ghafar and Cluster director of Sales Michael Bell.
Talking to the press, Mr Jagersbacher said that winning the World Travel Awards is a great achievement of the Hilton Worldwide and it is very encouraging.
He also touched on Hilton Worldwide's additions of the new Hilton Brand in Seychelles – Double Tree by Hilton.
He also touched on Hilton Worldwide's new additions in Seychelles – the Allamanda Beach Resort & Spa, which the company will manage under their brand Double Tree by Hilton.
Together with Hilton Seychelles Labriz Resort & Spa and Hilton Seychelles Northolme Resort & Spa, this new addition of Hilton Worldwide will be their third resorts in the Seychelles, Mr Jagersbacher said.
Congratulating the Seychelles Hilton team, Minister St Ange on his part said the Hilton Worldwide expansion plan in Seychelles is a good sign for the country.
"Hilton has been one of the sought-after brands of Seychelles, and today the country is delighted over Hilton's achievement," said Minister St Ange.
With the World Travel Market 2012 coming up soon, Minister St Ange took this opportunity to invite Mr Jagersbacher and the Hilton team to visit the Seychelles stand in a bid of enhancing cooperation and to discuss ways of further working together.
Nestled in the tranquil settings of Silhouette Island and surrounded by the island's luscious flora and fauna, Hilton Seychelles Labriz Resort & Spa is a mere 40-minute boat trip or 15 minutes helicopter ride from the main island of Mahé.
Guests of the resort can enjoy thoughtful amenities including complimentary WiFi, as well as exciting leisure activities, such as water sports, boat trips and nature walks. The resort boasts an outdoor pool, a modern fitness centre, tennis court and a kid's club. It also offers seven varied restaurants and bars, including private in-villa dinner.