'Seychellois fishers were liberated, not just freed'
07-November-2012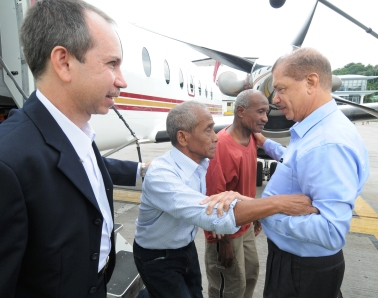 Home Affairs and Transport Minister Joel Morgan confirmed this with Nation yesterday when we asked him why he and President James Michel kept using the words "liberated" and "operation" in their interviews on Monday rather than saying as usual they were "freed" or "released" by their captors.
"Yes, they were rescued through an operation with the help of other governments who provided necessary support," he told Nation.
Speaking on Monday when the two former hostages arrived, Mr Michel said no details would be given "for security reasons and because the operation involved other agencies and international partners" but added:
"It is another victory for our small country. We invested tremendous efforts and resources in securing the release of our compatriots. They have paid off."
A statement from State House on the same day said the President "– who is also the Commander in Chief of the Armed Forces – congratulated the Seychelles 'Negotiation Team' (single quote marks ours) for successfully ensuring the release of Mr Tambara and Mr Songoire in a high-risk security operation that was effected without incident".
Speaking at the airport, Mr Morgan described the captors this time as irrational people who seemed to be high on substances of abuse all the time and kept changing their demands and also kept changing their "negotiators".
On Monday the Supreme Court convicted 15 pirates and sentenced them to up to 18-year jail terms.
He said the pirates know and hate Seychelles because of our being in the forefront in the fight against their crimes.
"The captors were very difficult making it not possible to reach a speedy conclusion to the process."
"They wanted a crazy amount of money – over US $20 million – and there was no way the government of Seychelles could afford this kind of money but also as a matter of principle we would not pay to these bandits, these criminals."
He said the pirates asked for a swop of the two men with some of the pirates held here for trial but said such an exchange will never happen.
"The fact that they have so mistreated Marc and Rolly doubles my personal resolve and of all the Seychellois nation to continue combating these people and to bring them to justice because they deserve no less. They have lost all reason and they are purely focused on trading human lives," Mr Morgan said.
He said his greatest sense of fulfillment in the entire process was on Sunday evening when he met the two Seychellois fishermen at Kenya's Wilson airport from where the Islands Development Company's Beecraft flew the minister and the two men to Seychelles.
"I'm still very emotional. It is very hard to describe. When you see somebody you've been talking to over the phone for one year and you've been hearing their plight and suffering then you meet them face to face and you see the way they are as you've seen them – so affected by this whole traumatic experience – the feeling is one of happiness as they are with you but also of intense emotion."
He said he invested a lot of his time in the liberation process and said he hopes he can now focus on other official commitments, but urged all fishermen to listen to maritime authorities' advice regarding where they can go fishing and where they should avoid, reminding all Seychellois seafarers to always ensure their VMS radios are in working order and switched on.