Government, private sector seek to improve working relationship
07-November-2012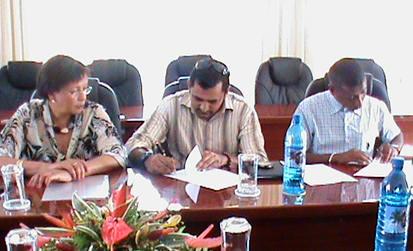 The MoU between the Ministry of Finance, Trade and Investment and the Seychelles Chamber of Commerce and Industry (SCCI) was signed last Friday at Liberty House.
According to a communiqué from the SCCI, the main objective of the accord is to ease cooperation and efficiency to improve the working relationship between government and the private sector so as to enhance the business environment in Seychelles.
The Ministry of Finance, Trade and Investment is the representative of government with one of its mandates being to improve the business environment in the country while the SCCI is the organisation representing the private sector and business community of Seychelles.
The two parties will cooperate and have regular consultative programmes on new economic policies and legislation being proposed.
The MoU was signed by Steve Fanny, principal secretary for Finance, Trade and Investment and Brijesh Jivan, SCCI treasurer, in the presence of representatives from both parties.
"The MoU is an important milestone in enhancing public/private cooperation," Mr Jivan said, adding that the SCCI looks forward to increasing the cooperation with government with the aim of moving the country's economy forward.
Contributed by the SCCI