UniSey boosts effort to attract quality students
09-November-2012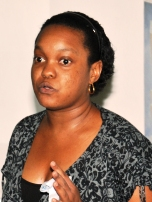 Delegates at the careers' workshop listening to a presentation
This came out at a career's workshop for teachers initiated by the UniSey in an attempt to encourage "quality students" to join UniSey.
The exercise is in close collaboration with the Ministry of Labour and Human Resource Development as well as the Ministry of Education.
The workshop was launched by the university's Dean of the Faculty of Sciences Sherley Marie in the presence of the director for Students Affairs and Careers Guidance Section Marina Jacques, UniSey lecturers, careers teachers and invited speakers.
"UniSey aims to provide these students with quality teaching and learning experience in order for them to exit our institution as effective and innovative workers," Ms Marie said, adding that the workshop is the first step for strengthening the collaboration between the ministries involved and the university.
The first presentation was by Juliet Gerry from the National Human Resources Council who spoke about employment needs and the rising trend of expatriates in the country.
She also put emphasis on the importance of education and proper training for a skilled workforce.
Other presentations included courses on offer by the faculties of Humanities and Sciences, a visual tour of the UniSey campus as well as a presentation by a quality assurance officer.
The workshop also had group sessions and reporting followed by a presentation of UniSey marketing tools to the delegates.