Youth Hostel, Au Cap teams win contest on national theme
09-November-2012
The event was held recently at the Anse Royale district administration, where a number of young people had gathered to see the contest.
The competition was initiated by the Anse Royale youth hostel in collaboration with the Seychelles National Youth Council.
The manager of the hostel, Roger Alphonse, said they had discussed various ideas before settling on the public speaking and drama competition.
"Ideas included doing community work at orphanages and communities, but we wanted an activity that would bring together a maximum number of young people, while at the same time get them to learn about and express themselves on the national theme," he said.
The competition was open to young people from the east and south-east region, namely Cascade, Anse Aux Pins, Pointe Larue, Au Cap, Anse Royale, as well as from Takamaka and Baie Lazare in the south and south-west respectively.
Various titles were available for those taking part to choose from. For public speaking these included How to get a better tomorrow, Every work has its unique importance, Work is a must, Personal skills and talents brings fortune.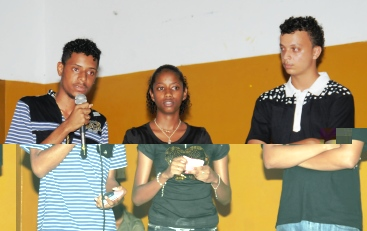 The drama category had presentations on titles like Work hard to not end up last, Work is a must, and Work hard.
There were various songs and dances as entertainment during the event from talented youths from various districts.
Mr Alphonse said the most popular title was How to get a better tomorrow, and said the young people had really shown interest in exploring it.
He also hailed the presence of members of the national theme committee at the event.
"With the presence of the committee members of the national theme, we hope that they took note of our presentations so that they can bring it forward where necessary, and also get to appreciate the ideas and contributions of our young people on the national theme," he said.