3-D feature film on Aldabra in the making
13-November-2012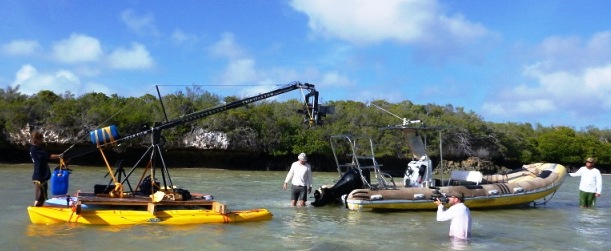 All post-production work is to be done in Europe and the film, which is to be screened worldwide, is expected to be ready by the middle of next year.
A crew from the Czech Republic who had been doing the filming returned to Mahe yesterday and paid a call on the Minister for Environment and Energy Rolph Payet to brief him on the filming process and other aspects of the project, which is expected to bring a lot of benefit for Seychelles.

The crew is headed by leading Czech producer Petr Keller of Starlite Pictures in Prague.
Speaking to the press after meeting Minister Payet, Mr Keller, who has been visiting Seychelles regularly for almost 20 years, said the idea for the film was generated after Ernst Pindur, Seychelles honorary consul to the Czech Republic, described Aldabra to him during one of his visits here.
"A dream was born then," he said.
From then on he set about sourcing a creative team for the project. He turned to internationally re-known Czech-born US film director Steve Lichtag who had gained international prominence as one of the first underwater filmmakers to film the great white shark without a cage.
He said that after an initial meeting with the principal secretary for Foreign Affairs, ambassador Maurice-Loustau-Lalanne, Messrs Pindur, Lichtag and himself spent a whole year fine-tuning an agreement between the Seychelles Islands Foundation (SIF) – which manages Aldabra -- and Starlite Pictures.
He noted that initial difficulties to hire a suitable vessel for the project forced some changes to the original shooting calendar which was scheduled for April this year.
Luckily a deal was clinched with Le Kir Royal, a yacht which has as captain Françis Roucou.
It is to be noted that this was Captain Roucou's first return to Aldabra since his 2009 kidnapping by Somali pirates.
Mr Keller and his team is also considering a special premiere to be screened in Seychelles as a gesture of thanks to all the local individuals who have made this special project possible.