Up-Close with … farmer and businessman Jose Pool-'Albeit a businessman today, I am first and foremost a farmer!'
13-November-2012
"I see myself as first and foremost a farmer, and then a businessman, but sometimes it's hard to separate the two, and I can't be one without being the other!" he said.
Having heard that and then learned that Jojo owns a farm with over 30 people working there, I asked him when was the last time he had grabbed a hoe and actually done some digging.
"This morning, just before you got here, in fact!" he said laughing.
"I was preparing a bed of earth, and although we have machines for that kind of thing, the plot was too narrow for the machine to fit in, so I grabbed a hoe and dug the bed myself!"
How it all began
Jojo was born in 1969 and got involved in agriculture from as young as 11 years old, where he had to help his parents, who were farmers themselves, with the work on the farm and also sell vegetables.
"It wasn't like I wanted to become a farmer at first; I actually wanted to become an accountant, but I'm happy and proud of what I've become today," he said.
"Today, when one wants to take up agriculture, the first thing that they might think of getting is a pick-up, then modern equipment, and so on. But in my time hoes, shovels and the like were all we had to begin with! At that time, we didn't have machines to dig the ground for us, and when a bottle of chemical had lost its label – which happened often – I had no choice but to open it, sniff the contents and try to identify what was inside!"
"I encouraged myself to learn about agriculture, and loved to watch TV programmes, especially Beyond 2000, and attend lectures by agricultural officials, and also take advice from older farmers. There were various practices at that time, such as burning the soil, which they said gave them ash, and from all those practices I came to develop my own farming techniques, a lot of which I still use today, such as steaming the soil in a big container and then using it for seedlings."
Today, Jojo manages a two-hectare farm, and says his main crop is lettuce, although he has a bit of everything else.

"I moved here (at Anse Royale) in 1996, and in 2008 when the President visited my farm, we asked him for permission to open a small market for retail sale of vegetables. Prior to that we had people coming to the farm and asking for something. Seeing the size of the farm, you can understand that it took a while to get the customer's order. Then his friend or other people accompanying that client would see the vegetables, and also want to order something and back we would go, until I was practically fed up of going back and forth like that! So we asked if we could open a small market, and that was granted straight away, and today we have people flocking to the farm every single day to buy vegetables, and I also sell vegetables from my brother's nearby farm. Indeed, our biggest client is the public who come to the market every day, as opposed to having a client that we supply to in bulk," he said.
He added that it was not always easy, as hardly one year after starting on the farm, a tropical storm practically wiped his farm out, and it was only thanks to the assistance from the government that he was able to get back on his feet again.
And although he's been hit by other storms after that, he has always managed to make it through, and shared a piece of wisdom with us.
"The thing about life is that although you might be hit hard from time to time, you don't have any other choice but to go on, and keep trying to survive! What else is there to do but to keep trying to move forward?"
José – The man...
A family man, who is married with three kids, José lives at Pointe Au Sel, and said his typical working day starts at 5.30am when he gets up, and he usually arrives at the farm at 6am.
He takes a few minutes to meditate on his daily activities, and sets his targets for the day. After that is when the real work starts and usually leaves the farm at 6.30pm.
At home, the only thing he plants are flowers, and said that with the farm keeping him busy a lot of the time, when he has some spare time he likes to have some beers with friends and take his children for drives around the island.
"I also love watching TV and trying out new recipes I see on TV; I'm a keen cook that way," he laughed.
"Since I left school at the age of 15, I also try to make up for what I have lost and so I try to teach myself about stuff as much as I can, such as learning management, laws and so on."
"I have two sons and although I want them to pursue their own path, I would be thrilled if that path was agriculture, but if they didn't I would also be okay with that."
Growing up anecdotes
I naturally wanted to know about some of his adventures growing up, and how it had influenced him in taking up agriculture.
"I remember going to the market, weighed down under a heavy basket of vegetables, and had to pass in front of all the young girls from my school. It wasn't like I had a choice not to go, but I also had my youthful pride as well!
"I often tell my workers that whatever they are doing on the farm, I've done it all before as well and can today still teach them a thing or two.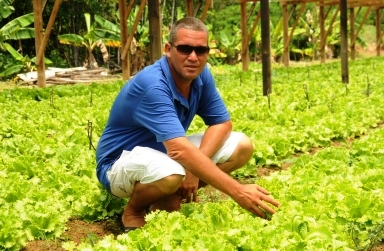 "A piece of advice I have never forgotten is when an elderly person told me that the best teacher in life is poverty, and it teaches you life-long lessons that you need to become a man.
"For example, on starting out in farming and your water pump breaks, a rich farmer would most probably just go and buy a new pump, but in my case, trying to fix that broken pump would have been my priority," he said.
Going to the Victoria Market was the weekend event that never failed to bring him an adventure or two.
"I will never forget hitching rides in pick-up trucks every Saturday morning to go to the market when I was still a child. Once, when sitting at the back of a truck and enjoying the ride to town, the driver put his head out of the window and spat. With the truck in momentum, the spit came right at me, and caught me full in the chest!" he laughed.
"Another memory I love to recall is that the market usually opened at 5.30am, and we were all waiting at the entrance, and as soon as the gates opened, we all stampeded inside to get the best tables. The pushing and shoving was incredible, but somehow, as soon as someone put his bag of products on a table, that table was his and nobody could do a thing about it. To that effect, I usually waited at the gates with only one of my lighter bag, so that it was easier for me to rush inside, and throw my bag down on a table that to me was strategically-placed. And that usually meant right next to the gates, or next to the fish stalls, since as soon as one was done buying fish, vegetables would be the very next thing on the list!"
Giving to the needy and less fortunate
Prior to the interview, I learned that Jojo has a thing for giving to the needy and less fortunate, and chose to ask him about it.
"We do give some of our products free of charge to certain charitable organisations, including a surplus if we have and we also give plants too.
"My opinion is that although we are ready to help, there are many people out there who do not understand the concept of donations. Donations should be given to those who really need it. I see a lot of people who ask for donations, who in my opinion are not really less fortunate or asking just for the sake of having something to use in a celebration, or to sell to raise money for a certain cause that I think is not altogether that much of a priority," he said.
"We do understand that the government cannot cater for everything, but I think that for example, if a group, sports club or organisation wanted to raise funds instead of asking for a donation and in return doing a sponsored walk, they could do community work, such as cleaning the district, doing work on a home for the elderly, helping with various infrastructure, and so on.
Sponsored walks have become highly overrated if you ask me!"
In conclusion, Jojo said he would like to thank everyone who had helped him in some way or another to be the man he is today, and that as much as he can, he gives back to the community.

And although a businessman today, he says he is first and foremost…. a farmer!

by Ivan Hollanda