2nd Interfaith symposium closes with address by former President Mancham
14-November-2012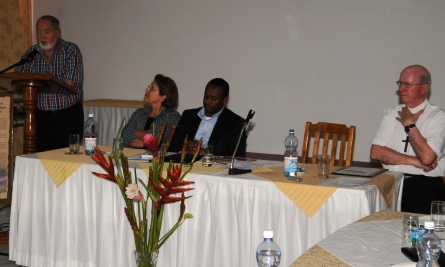 The meeting also heard an announcement by Anglican Bishop French Chang-Him that the Seychelles Interfaith Council (Sifco) has been officially registered as a non-governmental organisation (NGO).
Former President James Mancham, who was the guest of honour for the closing ceremony, commended Sifco's initiative for hosting such a gathering in a region, which he said, is of growing geographical and economic importance.
Mr Mancham said that as chairman of the Universal Peace Federation and several other international organisations, he has always held that no country is small, if surrounded by an ocean. "The fact that we come from small countries does not make us small people, and we should have an important say in what has become a troublesome world," he said.

He said that political and religious leaders who believe in dialogue and diplomacy rather than recourse to arms to resolve issues, symbolise hope and light.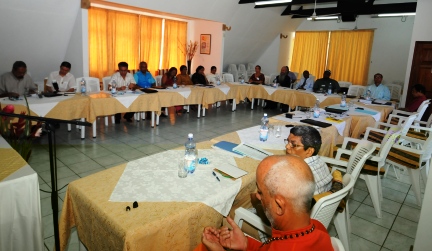 Mr Mancham said he is encouraged by recent developments in Seychelles. He recalled his childhood days when Catholics, Anglicans and Seventh Day Adventists viewed each other with hatred and suspicion.
"Today, I am very happy when I see my classmate, now Anglican Bishop French Chang-Him, working side by side with his Catholic counterpart, Bishop Denis Wiehe and Adventists are no longer looked upon as little devils."
Mr Mancham deplored the fact that, while Seychelles has made tremendous economic progress, materialism appears to have taken over from spiritualism.
He noted that too many people believe they can find Heaven on Earth.
"According to most creeds, life is just a passage and Heaven, our ultimate reward," he said.
Mr Mancham noted that while Seychelles and Mauritius are at the top of the pyramid for most economic rankings, it is unfortunate that too many of us do not thank God for our blessings and instead continue to live in envy and frustration.
He said it is important that religions lay emphasis on "peace of mind" as the most essential commodity in this world.

He said religious leaders also have a duty to speak out and denounce corruption as it shows its ugly head.

Mr Mancham said that as we approach Christmas, we should reflect deeply on the significance of this international spiritual event and sing: "Glory to God in the highest. Peace on Earth to all men of goodwill."
Earlier, the secretary-general of the African Council of Religious Leaders, Dr Mustafa Ali from Kenya, said he had been asked by journalists why come to Seychelles where there is no civil or religious strife.

"The answer is we must prevent that from ever happening here. Twenty-five years ago, Christians and Muslims were living peacefully together in Nigeria. Yet, today, the country has become a hotbed of religious tension."
Dr Mustafa said Seychelles is being hit by other ills, such as moral decadence. He called for "eternal vigilance" by religious leaders to do whatever is necessary, before it is too late.