Hotel hosts disabled children to fun day
15-November-2012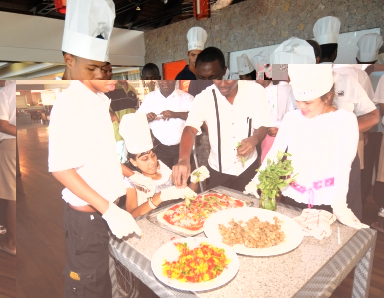 The group arrived at the four-star hotel early morning and after general manager Imran Azhar had extended a warm welcome to them, the guests were treated to a delicious breakfast to start with.
Then, all present were ushered into the hotel's conference centre for a brief description of the hotel and what their day would contain.
Mr Azhar told Seychelles Nation that the initiative was from the hotel's employee welfare committee and that the day was all the more special for the children as some of them had never been in a hotel before.
"We have held various activities for other institutions we have partnered up with, such as tree-planting and beach-cleaning events with the district's primary schools, and we were very happy to partner with the National Council for the Disabled as part of our corporate social responsibility," he said.

A variety of activities like football and mini-football, volley-ball and beach-volleyball, pizza-making, swimming in the pool and treatment at the spa, were organised for Monday's visit.
There were also educational tours and the children and their instructors could learn about how a hotel operates and what goes on there on a daily basis.

The hotel already employs two young people from the council and one of them is Naddy Zialor who is going on three years now with the hotel.
"As from next year, the council will focus even more on having people with disabilities being integrated and included in society, especially in employment. Such initiatives as the one today (Monday) will allow us to identify possible areas where we can take up employment so that we can also contribute our part to society," said Zialor.
The hotel's human resource director Angele Kate said they have had many past interactions with the council, where they have organised different activities such as book donations, lunches and others.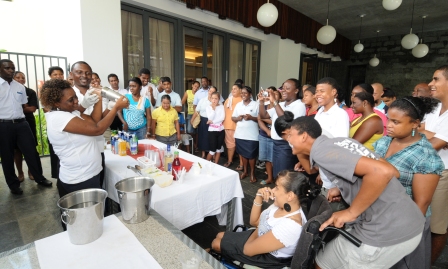 "This time we decided to bring our friends to us so that they could see for themselves what we do here," she said.

One of the most popular activities for the day was pizza-making where the children got to make their own pizza with the help of chef Roman.
Amid shrieks of laughter, bustling and giggling, were some talented young pizza-makers who did a very good job of making some delicious pizzas and they must surely had a story to tell when they got home.
Another much-loved activity was when the children learned about mocktails which are tasty but non-alcoholic beverages made my mixing a variety of fruit juices and other ingredients together.
The young guests then had the chance to make their own mocktails and eagerly had their friends taste their concoctions.
Mr Azhar said they will after the activity analyse the response to the event and then decide on what the next stop will be, although he said they will consider holding the event at least once a year.