Ministry urges public to understand diabetes
15-November-2012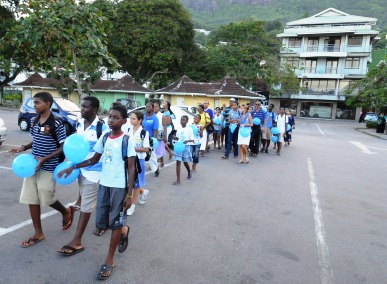 This was said by the principal secretary for health Veronique Laporte Wednesday evening when speaking at an event to mark the World Diabetes Day, celebrated Wednesday.

The event had a march held in its honour, where two groups of people walked from the Victoria Hospital and the English River clinic, to Stad Popiler.

Arriving at the stadium, there were a variety of musical performances prepared for the crowd, where the Tanmi band and various local artists including Joseph Sinon, Reuben and Ion Kid were present to hype up the crowd.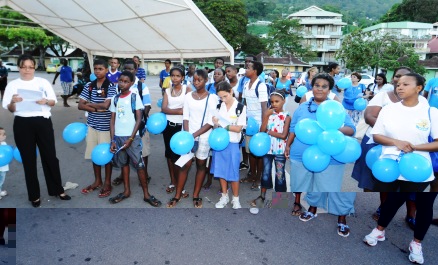 There were also messages of wisdom in between the presentations and PS Laporte in addressing the crowd, said that in Seychelles, there is a staggering 6000 people or more people living with diabetes and another 9000 are slowly developing the disease.
"Seychelles is being affected by diabetes in a big way. I am sure that each one of us know at least one or two persons with diabetes, and this disease is gradually affecting our young and productive sector of the population, who makes our economy grow; people who are working , are raising families and looking towards a fruitful and enjoyable future," she said.
"The Ministry of Health remains committed to combating non-communicable diseases, including diabetes, and more effort will be continued to be put on health promotion.
In 2009, a specialised clinic for diabetes was established at the ministry to provide further tailored clinical management for selected patients with diabetes and related conditions."
PS Laporte had two appeals to make to the population on behalf of her ministry, the first to those who do not yet have diabetes.
"To the population who do not have diabetes today, please take time in your busy schedule to understand the main measures to avoid developing diabetes. Come to the health facilities, and seek advice so that you can make the best informed decisions for your health," she said.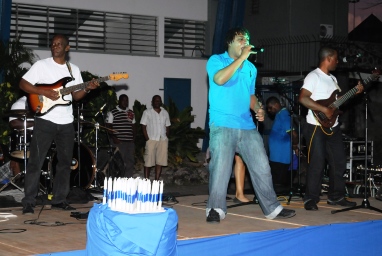 She also had some words for those already living with the disease.
"My next plea is for those living with diabetes, please take your medications regularly and be active actors in the management of your treatment.
A treatment well-followed is very effective in reducing health complications. Once again, I call upon you to come forward and seek explanation and help where required.
Our dedicated staff at the ministry will respond to your calls so that you achieve maximum control of your conditions," she said.
"As we commemorate World Diabetes 2012, let us all join forces and accelerate the pace of our interventions to fight diabetes, and let us all adopt healthy lifestyles to give ourselves the best chances to have a healthy, productive, prosperous and happy life."
With the Tanmi team in cabaret mode, and the other artists hyping up the crowd, the evening went on with various musical performances until later in the evening.