Nick Baldwin shortlisted for triathlete of the year title
15-November-2012
Fans of the triathlete can vote for him by clicking on the following link: http://beyondgoinglong.co.uk/?p=1634.
Voting is open until Friday November 23 and Baldwin needs all the votes he can get to have a chance of winning.

Speaking to Sports Nation, Baldwin said: "This would be a great award to win and would be fantastic for the exposure of Seychelles within the United Kingdom and internationally. I'm counting on the support of the nation! Thank you and I'll wait to hear from you.

In the meantime, I would be most grateful if you could share the link above with your network of contacts. Many thanks."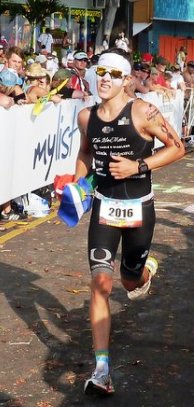 Described as one of the hottest age group talents in the world, Baldwin kicked off his 2012 season by winning his age-group race – 18-24 years old – in Abu-Dhabi.
His season then went from strength to strength as he won the Ironman 70.3 UK, was crowned the Ironman 70.3 world champion for 18-24 years and followed this up in Kona by claiming silver for the second year running and finishing in a very impressive 40th overall.
As of Wednesday, Baldwin was ahead in the voting with 40.16% of the votes. Anthony Gerundini was second with 40.8%, Dan Halksworth third with 11.89%, Tom Lowe fourth with 4% and Stephen Bayliss fifth with 3.06%.
G. G.