Senpa-registered artisans to attend handicrafts training in China
16-November-2012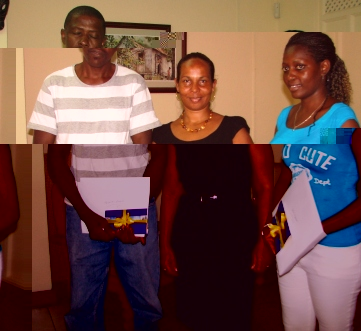 Donatien Freminot and Jerina Longobardi received their plane tickets on Thursday morning from Senpa chief executive Penny Belmont at the agency's headquarters at Camion Hall.
The pair will leave the country on Monday, where during their stay, working with coconuts will be the main focus of their training.

The training will be led by the Hainan Baolu company, and although the two artisans are already well versed with working with coconuts locally they are seeking to broaden their knowledge and get new skills.

The trip came about after the Mayor of Victoria Jacqueline Moustache-Belle paid a visit to Haikou in September. Haikou has officially been the sister city of Victoria since 2007 and much work has been done in the field of culture and arts.
These two sectors are important parts of the consensus reached by the two mayors from both sides.
A letter from the Haikou Foreign and Overseas Chinese Affairs Office said the training programme will definitely serve as another significant channel for exchange and strengthening of friendship.

When presenting the tickets, Ms Belmont re-affirmed Senpa's support for local artisans and said their development remains a priority for the agency.
Senpa has paid for the plane tickets and training fee for the duo, while the organisers have covered the rest of the costs, including accommodation, food and transportation in China.

Mr Freminot and Mrs Longobardi are expected to share their knowledge upon their return on December 19 through a series of training sessions with other artisans and even those who might want to learn such skills.