Seychelles' ambassador to Germany accredited
17-November-2012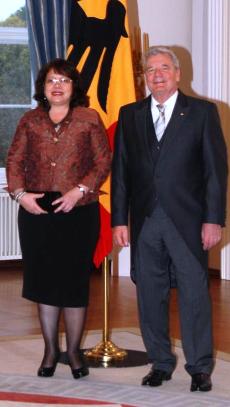 She presented her credentials to Joachim Gauck, President of the Federal Republic of Germany, at the Schloss Bellevue in Berlin on November 7.
During the meeting which followed the official ceremony, President Joachim Gauck and Ambassador Fock Tave exchanged views on various issues, including the economic reform currently being undertaken by Seychelles and piracy, among others.
Seychelles and the Federal Republic of Germany established diplomatic relations in January 1977.
Several Seychellois have undertaken their studies during the evolving history of Germany in the 80s and 90s, ranging from sport, medical, architecture, engineering, pharmaceutical, to economics.
When Seychelles undertook its bold economic reform in late 2008, Germany was among the countries which agreed to reschedule the country's debt in the Paris Club.

Seychelles has also benefited from German help in the fight against piracy.