Seychelles trade at Asia's largest travel show
17-November-2012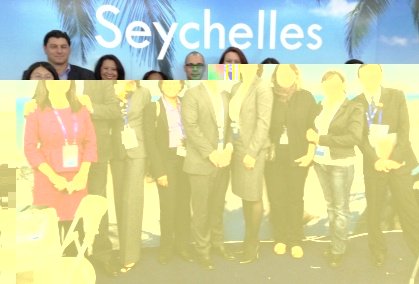 CITM is an annual event that is held in Shanghai and Kunming alternately. This year the fair is being held in Shanghai at the Shanghai International Exhibition Hall, from November 15-18.
As the largest professional travel show in Asia, CITM has drawn the attention of people in the tourism industry worldwide.
Seychelles is being showcased on a 27 square metre stand with a panoramic backdrop depicting our turquoise blue sea, granite boulders and white sandy beaches.

Headed by the chief executive officer of the Seychelles Tourism Board (STB), Elsia Grandcourt, the delegation comprises senior marketing executive Stephanie Lablache and the two marketing executives based in China, Jean Luc Lai-Lam and Ethan Chen.
Alongside the STB team are the following local trade partners: Berjaya Beau Vallon Bay Hotel represented by Johnette Labiche, Mason's Travel (by Eddie D'Offay and Anny Li), 7˚ South (by Qi Lanqiu) and Creole Travel Services (by Rose Sham).
This four-day event is targeted at both trade and consumers and is a perfect platform to learn more about this increasingly expanding outbound tourism market.

"There is most definitely an increased interest in the destination from both consolidators and travel agents with a strong demand for visual promotional materials," said Eddie D'Offay on the first day of the fair.
The STB team conducted several media interviews from different media houses based in China namely, Shanghai Daily, Travel World China and Zhejiang Television Station.
The Chinese market remains one with a huge potential for the destination and has been recording a positive growth in visitor arrival figures since the beginning of the year and a forecasted 120% increase is anticipated at the close of the year.