Football: Interview with SFF chairman Joel Decommarmond-'The federation is to be blamed for transfer scandal'
17-November-2012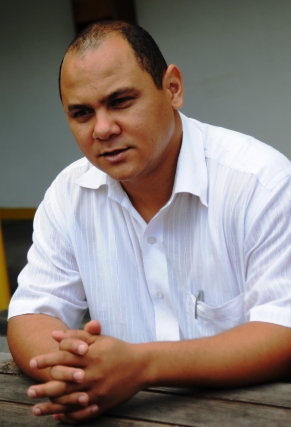 Speaking to Sports Nation this week, chairman Decommarmond made this startling revelation which will surely send shockwaves around the football circle locally.
"The federation is 100% to be blamed for this transfer scandal and I have told the other members that to sort out this problem, we should have gone out and apologise to all members and then move on to compensate the affected teams," said Mr Decommarmond.
He stated that many of the errors were committed by the administrative branch of the federation and he was not aware of such happenings until things came to light.
"I congratulate the Northern Dynamo manager (Clive Delorie) who fought hard to reveal this fiasco and in my opinion we cannot blame the clubs especially if the federation had issued the players with their licences.
Administratively I know that the federation was wrong after looking at what has happened.
After all if an under-aged goes to the Seychelles Licensing Authority and is issued with a driving licence, who is at fault? Isn't it the licensing authority for not doing its job properly?," chairman Decommarmond pointed out.
Mr Decommarmond also claimed that such transfer problems have been happening for a long time and he said he came to notice this when he reviewed the team files.
"I have seen a lot of discrepancies in team files when I have checked them and some are even operating illegally as they lack the necessary documents in their files," Mr Decommarmond said.
The chairman said that therefore there is a lot of work to be done and there are wholesome changes that need to be made across the board to put the house in order.
"I don't think I can be blamed as I do not handle transfers but I think if the executive members had accepted my strategic plan and supported it at the start, we would have sorted out a lot of these problems and maybe this would not have happened," chairman Decommarmond said.
But Mr Decommarmond admits that he was at fault to intervene in the La Passe and Anse Reunion transfer argument involving Malagasy Hassan Ali.
"In hindsight I feel it was a mistake to try to intervene to resolve this conflict but it backfired and probably my lack of experience did not help. However, my intention was to help football and I would have expected the executive committee could have advised me and told me that it would be wrong for me to interfere," Mr Decommarmond added.
In fact, Mr Decommarmond said he has had a very difficult nine months at the helm of local football where he feels he has not earned the respect of all executive members and has not received their full support.
"I feel sad that there is a lack of trust in this committee as things that are discussed are leaked out to other people and this has really affected my role as chairman," Mr Decommarmond told Sports Nation.
He said he tried to adopt a new style of leadership when he came in, allowing members to give ideas and take the lead.
"I think my leadership style of openness may have been the root of my problem though I still think it was right, but probably I should have continued in the same manner as my predecessor and probably things would have been different," the chairman said in reflection.
Chairman Decommarmond also bemoaned the attitude of some members of the executive members and said he thinks it would have been a good idea that there should have been elections for office bearers when he was elected in to office.
This would have meant a fresh start for the executive committee.
"When I look back I think members who want to stand for election must state what are their plans for the sport as at present it seems that some are interested just for the benefits they receive but do not have the sport at heart," claimed Mr Decommarmond.
He said his first year as chairman has been a complete catastrophe and he considers it to be a total failure.
"It has been a stressful year as I thought people would have accepted me and this new approach, but my entourage has failed me and therefore I have also failed to deliver especially on the ideas I had presented in my manifesto.
I have not been able to put them into practice," stated a disappointed Decommarmond.
Nonetheless, Mr Decommarmond is keen to stay on if the club managers want him to stay but would be happy if he gets a new committee to work with in the near future.
"I am ready to continue in this post if the club members want and help me elect people who are ready to work on the executive committee for the promotion and development of football but not for personal gains. I do not get anything from football but I do it because of my love for the sport," revealed Mr Decommarmond.
Mr Decommarmond is insistent though that he needs the support of the club managers and their input to improve things.
"If the managers pull in different directions it will not help, but rather they should not look at where is the problem but for how long it has been affecting football and work to ensure that it does not happen again," added Mr Decommarmond.
To conclude, the SFF boss is of the view that as a form of compensation, no teams should be relegated to the second division but rather to have 12 teams in the top flight next season.
"To be fair to every team, in my opinion, I think we should have no relegation as some teams have suffered as a result of these errors by the federation.
So to make it up for them, they get to stay in the top flight but then again, this has to be endorsed by the executive committee," Mr Decommarmond said.
R. J-L.