Parents welcome choreography fitness competition-Grand Anse Praslin sails home with overall best trophy
19-November-2012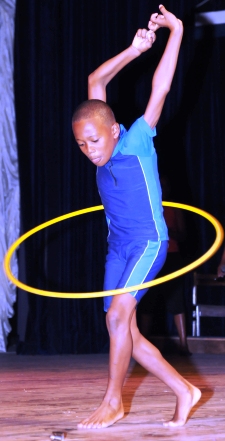 "It's a fantastic feeling. I memorised the moves easily and I got the others to follow in training," said Bistoé who guided her teammates on stage at the International Conference Centre in delivering a display of artistry, agility in a well-choreographed morceau on the Soca Boys' Follow The Leader rhythmic tune.
"We trained hard for two months and I'm sure that even though I would not be competing again next year as I will be moving to the secondary school, the Grand Anse Praslin primary school will still win the competition," added Bistoé.
Teacher Sylvette Suzette, who is also a fitness instructor, was overjoyed when she heard her school's name for the top prize.
"I'm very happy we've reclaimed the title. Last year we lost the cup to La Digue after winning it for two years in a row. The sacrifice has been worth it. The children trained during lunch break and after school hours for two months. We are all happy after this win," said Ms Suzette.
Organised by the Sports for All Unit in the National Sports Council (NSC), the yearly choreography fitness competition concluded the calendar of activities of the children obesity programme carried out at school level. The programme is jointly run by the NSC, the Ministry of Health and the Ministry of Education.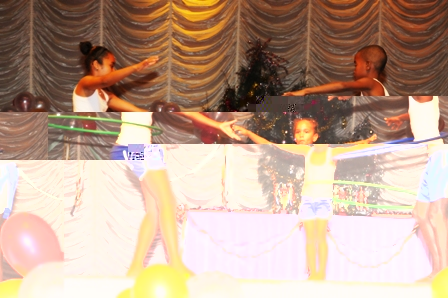 Children from eight primary schools from Mahe, Praslin and La Digue competed in nine events – hula hoops (individual boy, individual girl, mix of three and mix of five), skipping rope (individual boy, individual girl, mix of three and mix of five) and 15-member choreography – in Saturday's fourth choreography fitness competition.
First in the choreography competition with 283 points and overall with 64 points, Grand Anse Praslin also won the mix of three skipping rope and mix of five skipping rope although Anse Aux Pins took the overall skipping rope prize with 32 points.
Baie Ste Anne Praslin dominated the hula hoops to win the overall prize with 36 points after claiming the individual boy and mix of five gold medals.
Saturday's panel of judges was made up of Francis Remie, Marie-Ange Francourt, Diana Menesse, Williana Dubois, Marie-Cecile Benstrong, Macda Leon (judges), while Christine Hoareau was the score keeper.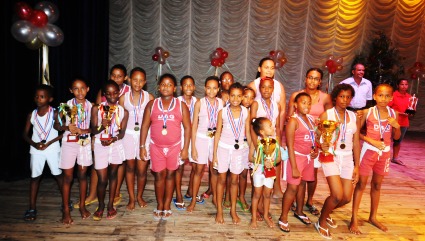 Among the main criteria for the competition were agility on stage, music chosen, manipulation and combination of movement, creativity, and coordination and balance.
Accompanying this article are some of the photos taken by our photographers Patrick Joubert and Louis Toussaint.
Complete results:
Hula hoops
Individual girl: Maury Young of Anse Aux Pins
Individual boy: Stephan Fred of Baie Ste Anne Praslin
Mix of three: Ilaria Ernesta, Tanisha Baker and Angelo Auguste of Port Glaud
Mix of five: Anna-Lisa Jasmin, Nissa Dubignon, Shakira Lesperance, Daryl Etienne and Veronica Lesperance of Baie Ste Anne Praslin
Best overall: Baie Ste Anne Praslin with 36 points
Runner-up: Grand Anse Praslin with 26 points
Third place: Anse Aux Pins with 18 points
Skipping rope
Individual girl: Shamsa Nasser-Ali of Anse Aux Pins
Individual boy: Enrico Rene of Baie Ste Anne Praslin
Mix of three: Ishia Valentin, Gavin Mousbé and Marion Philo of Grand Anse Praslin
Mix of five: Ishia Valentin, Gavin Mousbé, Marion Philo, Irina Fred and Sharmene Padayachy of Grand Anse Praslin
Best overall: Anse Aux Pins with 32 points
Runner-up: Grand Anse Praslin with 28 points
Third place: Baie Ste Anne Praslin with 22 points
Choreography
1st Grand Anse Praslin with 283 points and with Ezra Bistoé, Shanty Rose, Salima Mathiot, Nathaella Volcère, Joshua Lesperance, Marion Philo, Marion Ragain, Sharmene Padayachy, Ishia Valentin, Norisha Philoé, Chivelle Fideria, Annick Capricieuse, Maritza Lesperance, Kelsy Bouchereau and Annella Adeline
2nd La Digue with 222 points and with Kelvina Radegonde, Angie Ernesta, Saitana Ernesta, Marchella Nibourette, Chloé Nibourette, Wendy Payet, Sylvenie Adrienne, Stephie Adrienne, Kella Bibi, Anisha Ernesta, Issa Nibourette, Shamira Kanny and Marshall Ladouce
3rd Bel Eau with 212 points and with Anisha Barbé, Shakirah Lesperance, Kurcha Joubert, Samia Dugasse, Anisha Solin, Jamelia Gonzalves, Jecintha Boudane, Charlotte Bonne, Ramlah Heneka, Kethra Bonnelame, Nailla Lespoire, Shina Julie, Manuella Maringo and Phillipa Zialor
Best overall school:
1st Grand Anse Praslin with 64 points
2nd Baie Ste Anne Praslin with 58 points
3rd Anse Aux Pins with 50 points
Best effort during the year:
Port Glaud
G. G.