Anse Reunion lift Land Marine Cup-Football
19-November-2012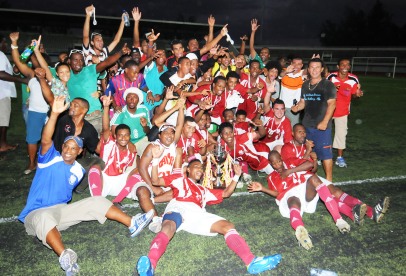 There had been a lot of debate on where this final match of the season was to take place and at one point even the main sponsor threatened not to turn up as the two teams tested the resolve of an ailing Seychelles Football Federation.
In the end, common sense reigned and the match took place at our national stadium and there was a decent crowd especially comprising Côte d'Or and Anse Reunion supporters who created a good ambiance.
Côte d'Or, who had been unbeaten since June, started as favourites in a match which referee Emile Fred surprisingly kicked off earlier than the original time.
The Praslin side, who have had a good record against their La Digue opponents, set the tone of the match and Anse Reunion suffered a blow as early as the first minute when defender Armantal Ernesta clashed with Malagasy teammate Hugo Sezou.
Ernesta had to leave the pitch with a bad cut on the forehead and had to be transported to hospital where he received three stitches and was replaced in defence by Bernard Rose.
In the 13th minute, Côte d'Or's goalkeeper Kitson Cecile nearly gave away a stupid goal as he took too long to clear the ball and when he did, it was blocked by the lively Nickerro Marie.
Fortunately for the Côte d'Or custodian, the ball rolled out of play, avoiding an embarrassing goal.
In the 16th minute at the other end, Malagasy Mazinot Valentin set up Marlon Sophola whose header sailed just wide.
Midway in this half, Côte d'Or again threatened as Malagasy Jean Tigana's curling free-kick forced goalkeeper Ricky Rose to push the ball into corner.
Côte d'Or broke the deadlock in the 26th minute as their pressure paid off. When Anse Reunion could not clear their lines, Malagasy Patrick Ramsamimanana fed his colleague Mazinot whose fierce low shot slipped out of goalkeeper Ricky Rose's grasp to find refuge in the net for a 1-0 lead to the Praslin outfit and it was well celebrated.
Anse Reunion, who had been on the back foot at the start of this match, had to respond and in the 28th minute Nickerro Marie volleyed a decent chance narrowly wide.
They levelled matters on the half hour mark from Roderick Rose's deep free-kick which Norvil Gaspard pulled back to Sezou whose sweetly struck volley beat goalkeeper Kitson Cecile to make it 1-1 much to the delight of the Anse Reunion supporters.
Suddenly the momentum of the game swung in Anse Reunion's favour as Côte d'Or looked rattled by the goal and in the 41st minute Stenio Ernesta burst through and was brought down by Melvin Uranie's tackle for a penalty, but referee Emile was not brave enough to penalise this infringement.
Côte d'Or though were punished for a lapse of concentration on the stroke of half-time as Yelvanny Rose was given too much space on the right to run at goal.
The burly striker darted on goal before unleashing a thunderous shot which crashed into the roof of the net to make it 2-1 to raise the roof at Stad Linite as the first half ended in stunning fashion.
Nickerro Marie scores winner
In the second half, Anse Reunion picked up from where they had left off in the first, stretching their lead with only three minutes elapsed after the restart.
Malagasy Hassan Ali spread a glorious pass to the speedy Nickerro Marie and as Côte d'Or waited for the offside flag from assistant referee James Emile which never went up, the young striker raced clear to fire a low shot past Kitson Cecile to make it 3-1. This was his fourth goal in as many games.
Côte d'Or were furious as they were adamant that Nickerro Marie was offside but the goal stood and found themselves chasing the game. The boys of coach Ahmed Abdou had to throw caution to the wind as they went on the offensive and in the 69th minute, Collin Esther linked up with Tigana but he volleyed a decent chance wide.
A minute later, Côte d'Or cut the deficit of this enthralling match after Anse Reunion carelessly gave away possession.
Dean Suzette pounced on the loose ball to rifle home his sixth goal in three matches to make it 2-3.
In the 76th minute, Anse Reunion's Sezou collected a loose ball in midfield and as he was given space, he shot at goal but his effort crashed against the post as Côte d'Or rode their luck.
As for Côte d'Or, they should have leveled matters in the 80th minute as Tigana played a throw-in to Suzette who floated a cross to Collin Esther who was completely unmarked, but from five metres out, he headed straight at goalkeeper Ricky Rose to miss a glorious chance.
Anse Reunion should have killed off the contest in the 85th minute as Yelvanny Rose played a through ball to substitute Samy Radegonde but with the goal at his mercy, he shot narrowly wide to let Côte d'Or off the hook.
Côte d'Or continued to push forward and in the 89th minute, Tigana released Malagasy Patrick but he shot wide from a good scoring position.
Controversy loomed large deep in injury time as goalkeeper Kitson Cecile came way out of his line to play a free-kick into Anse Reunion's penalty area. Marlon Sophola leapt high to head into the net but his celebration was short-lived as assistant referee Petrousse had raised his flag for quite a while.
Anse Reunion therefore celebrated as the final whistle blew for a victory that required a gutsy performance as they had luck on their side.
Coach Juel Ah-Kong praised his players for their efforts.
"We made the most of this chance to win some silverware.
Today we adopted a different strategy where we used three speedy young strikers to trouble our opponents. It was a dream of all the players to win and this is a very good result for us.
I would like to congratulate my management and thank our fans for their support," coach Ah-Kong told Sports Nation.
As for Côte d'Or manager Robert Payet, he was left perplexed by this loss.
"I congratulate my team as they put in a good show.
But I am not satisfied with the officiating as my team were denied two good goals and this is especially unacceptable in a final where I think the referee was not qualified enough to handle this match.
We had a good goal in the last minute disallowed probably because the official did not want the match to go to extra-time and he failed to penalise our opponents for a lot of time-wasting. Overall though it has been a good season for us though we would have loved to win this cup too," manager Payet said.
The cups and medals were presented to the two teams by SFF chairman Joel Decommarmond and Land Marine representative Dave Prea.
Sports Nation would like to congratulate Anse Reunion on their cup triumph as the 2012 football draws to a close.
R. J-L.