UN office hopes to ease our piracy load-. Agency to support substance abuse reduction programme
20-November-2012
UNODC's executive director Yury Fedotov said this on Sunday at the end of his visit to Seychelles when he also announced his organisation is working with local bodies to launch a new programme to educate young people to stay away from harmful substances.
Seychelles spends up to 4% of its gross domestic product on anti-piracy efforts, and Mr Fedotov said given our small population, the amount of work we do in the global effort against the scourge is quite much.
Mr Fedotov on Friday visited the Montagne Posée prison and said the jail's conditions are ideal and pirates held there told him they are comfortable.
He described his mission to Seychelles as very productive and fruitful and pledged to boost cooperation between Seychelles and the UNODC.
"I am very pleased with the outcome of this mission because now it sets new objectives of what more the UNODC can do for Seychelles to support the government in the fight against piracy," he said.
The meetings he had with President James Michel, Vice-President Danny Faure, Home Affairs and Transport Minister Joel Morgan and Foreign Affairs Minister Jean-Paul Adam and other senior officials showed him this country is politically committed to continue working closely with the international community to meet the challenges of piracy," he said.
He said piracy is one of the major threats in the Indian Ocean, undermining its security, sustainable development as well as threatening the stability of many countries including Seychelles.
He said the UNODC will work to encourage other countries – especially Somalia – to take convicted pirates being held in Seychelles especially those serving long sentences.
He noted he was headed to Puntland, Somalia where he is due to lay the foundation stone for a new prison as well as have further discussions with the authorities from both Puntland and Somaliland to encourage them to do more towards the transfer of the convicted pirates.
During talks with President Michel, Mr Morgan and government officials, they discussed how the UNODC can help Seychelles through a drug prevention programmes which ought to involve other ministries.
"The UNODC has the skills, tools and experience. The programme of drug prevention will be discussed at a more expert level with Seychellois officials and at some stage we will deploy some programmes specifically targeted and designed to meet this challenge of drugs and to prevent drug addiction in Seychelles," he said.
Mr Morgan, who was at the airport on Sunday to see off Mr Fedotov, described the UNODC chief's visit as an important one for Seychelles as he got the chance to recognise the work the Seychelles government is doing with UNODC help, adding the visit was timely since the government is working on plans for new rehabilitative prison facilities for the future.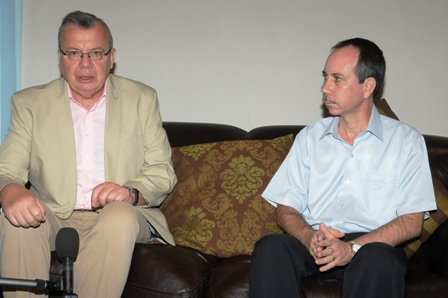 He said the UNODC has agreed to finance a new prison on Praslin for convicted minors which the UNODC will help to build by supplying materials while the government of Seychelles will meet the labour costs.
"Another project which is still under discussion is a prison on Coetivy for first time offenders who have been involved in one way or another in drug activities. Such an environment is expected to give the offenders a chance to follow a rehabilitation process so that they can re-adjust their ways and come back in the society as better people," he said.
"I am very happy Mr Fedotov has agreed to support us and to look at ways in which we can develop this collaboration so as to take preventive action and help the government and the whole Seychelles nation in the fight against drugs, for our future, for the future of our youths and for the benefit of our country," said Mr Morgan.
Mr Fedotov was accompanied during his visit to Montagne Posée by Mr Morgan, the regional representative for UNODC Loide Lungameni, the regional coordinator for UNODC Alan Cole and the UNODC programme manager Sergey Peresada.
Deputy superintendent of prison Will Thurbin briefed them about its strategic plans.
They saw an area where paintings, handmade crafts and other products are made by the prisoners and told about improvement projects being done by the government with UNODC support and Mr Fedotov spoke with Somali convicts there.
"We are deeply appreciative for the assistance given by the UNODC to improve the Montagne Posée prison and for their continued support to Seychelles in its fight against piracy," said Mr Morgan.
With UNODC constructing new prisons in Somalia, we will be able to transfer more convicted pirates and this will ease the burden on our prison resources," he said.
In 2009 President Michel called on international allies to rely on Seychelles as an anti-piracy hub. Today Seychelles is a recognised anti-piracy coordination centre of the Indian Ocean, with European Union, US, India, China, Russia and Nato forces taking part in the surveillance operations in the region.
There are 105 Somalis at the prison, 25 of whom are awaiting trial. Some were captured by the Seychelles Coast Guard, during three successful hostage rescue missions in 2010-2011 and others are captured by international forces in attacks on Seychelles-flagged ships, or inside the country's economic zone.