Naval forces of Pakistan extend offer for greater ties
26-November-2012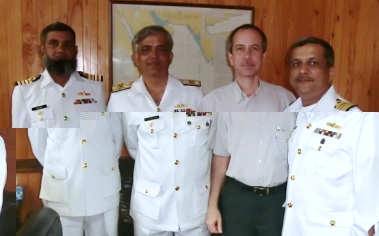 This came up during talks between Captain Tarique Hussain and other senior officers of the Pakistani naval ships PNS NASR and PNS TIPPU SULTAN with the Seychelles Minister for Home Affairs and Transport, Joel Morgan.
Discussions centred on the anti-piracy efforts in the region and the work of naval coalitions, in view of the upcoming transfer of leadership, where the Pakistani navy will be taking over from the Turkish navy as the Command of Combined Task Force 151 (CTF 151).
While in Seychelles, the Pakistani delegation also met the principal secretary for Foreign Affairs, Ambassador Maurice Loustau-Lalanne.
Mr Loustau-Lalanne expressed Seychelles' readiness to work with the Pakistani navy, and thanked the government of the Islamic Republic of Pakistan for its extensive efforts to ensure security in the Indian Ocean region as part of the CTF151.