49 recruits accepted into defence forces family-• Ricky Leon and Norris Souris best overall recruits
26-November-2012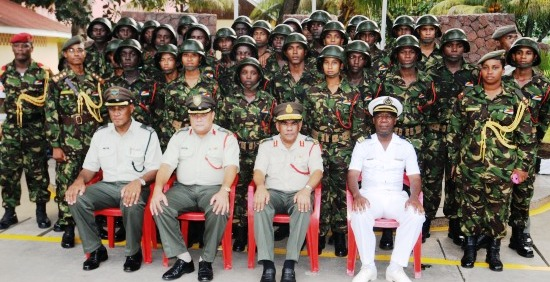 Held at South-East Island, the ceremony saw 49 out of 67 recruits – from the Seychelles Coast Guard and infantry units – successfully complete their training courses to now be in the SPDF as privates.
The event was attended by the chief of defence forces Brigadier Leopold Payet, other high-ranking officers, and relatives of the newly sworn privates.
The groups began training in April and May this year, and became proficient in many military skills, such as in tactics, weapon training, physical activities, and drills.
There were also advanced training courses for those from the Seychelles Coast Guard in seamanship, basic formation in maritime commandos and other aspects of maritime security.
Training was done on both Mahé and Coetivy islands, giving the former recruits as much exposure to military life as possible.
After Brigadier Payet had inspected the ranks, the recruits took their oaths of allegiance to the flag and constitution of Seychelles, after which they rose to the rank of privates.
In his address, Brigadier Payet said the privates' decision to enrol in the military is confirmation that they have sacrificed all other personal activities for the well-being of their country.
"During the past months, you have had a very packed training programme in various domains, and you now have the necessary requirements that the force asks for. A career in the defence forces is one full of opportunities, but you must have a positive attitude towards your work and studies that are always ongoing here, and I invite all other young people who have unconditional love for their country not hesitate to join the SPDF," he said.
"The results of the training are based on the new vision of the force, which aims to have a more modern, professional and efficient force."
He also asked the new privates to respect the oath of allegiance they have taken and to remember their motto 'Service before self', and said their progress in the force would depend entirely on what they wish to achieve.
There were awards for best performances for soldiers from both groups in practical and at academic levels.
The best recruit in practical from the Seychelles Coast Guard group was Dean Madeleine, and the same prize for the infantry group went to Norris Souris.
On the academic level, the best recruit from the Seychelles Coast Guard is Edwin Constance, while the top prize for the infantry group was clinched by Michel Payet.
As for the best overall recruits, the top prize for the Seychelles Coast Guard group was won by Ricky Leon, while the same prize for the infantry team was taken by Norris Souris. They received their trophies from Brigadier Payet.