Up-Close with conservationist Terence Mahoune-'Island life has greatly shaped my personal development'
27-November-2012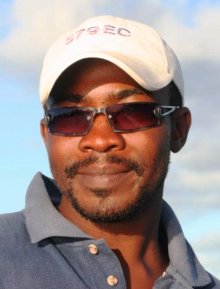 After hearing a lot about his passion, devotion and great commitment towards conservation, I finally came across the short bearded figure on the airstrip of Assumption island, 1,140 kilometres southwest of Mahé recently.
Terence Mahoune has been living on the island for the past 12 months, working on the Eradication of Avian Invasive Alien Species project led by the Seychelles Islands Foundation (SIF) and funded by the European Union. He has now been promoted as the project's new team leader.
A native of lower Mont Buxton in central Mahé, Terence is the second child in a family of four brothers, raised by a single parent and a grandmother.
His interests in environmental issues and conservation started in his younger days when he was actively involved with people he described as 'nature lovers' who would often organise hikes, camps and visits on closeby islands.
This, he said, has been influential as well as inspirational and has greatly contributed to him choosing this career path.
After his primary and secondary education at the La Rosière school, Terence moved to the then National Youth Service (NYS) in 1993, before attending the School of Humanities and Science at the Seychelles Polytechnic from 1994-1996.
Early in 2007, he left Mahé for South Africa where he studied for his BSc in Environmental Science at the Nelson Mandela Metropolitan University in Port Elizabeth. The tertiary education offer was entirely funded by the SIF.
His first professional experience was as a park ranger with the Marine Parks Authority (MPA), where he got most of his practical training.
Shoals of Capricorn offered diving courses for park rangers and also practical workshops involving underwater survey techniques, coral identification, coral monitoring, coral reef health assessment and fish identification (butterfly & groupers as key reef species).
He also had the chance to rotate to all Marine Protected Areas, including Ste Anne, Port Launay, Baie Ternay, Curieuse and Ile Cocos, all administered by MPA.
Terence explained that during that time he was also involved in environmental management, as well as the enforcement of environmental laws and regulations.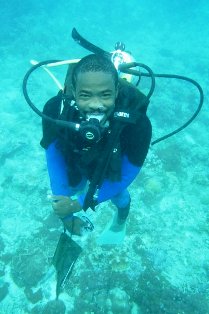 Terence in his element
He also had the chance to take part in the sea turtle monitoring for Seychelles designed by Dr Jeanne Mortimer.
"During that time, I personally built up my interest in environmental science and natural history mostly by myself, having acquired sufficient training and skills," he explained.
He then accepted to take part in exchange programmes with the SIF, after being encouraged by the late John Collie who was then responsible for the Marine Parks.
He gained much more knowledge and experience in the field when he was posted on the Aldabra Atoll for almost five years.
"On Aldabra I got the chance to take part in different monitoring and research programmes, while I personally built my interest in various fields such as zoology, botany, ornithology and marine science," he said.
While on Aldabra, Terence encountered many individuals involved in environmental research and the study of natural science. This, he said, has been a great boost to his career.
"I recall being in charge of the atoll's research station, doing the duties of research officer, ranger, boatman and training logistic staff to ensure that monitoring went on, despite the lack of research staff at that time," Terence proudly explained.
Since December 2011, Terence has been part of the team working on the Eradication of Avian Invasive Alien Species project led by the SIF.
He explained that the project has boosted his knowledge in birding, mostly in mist netting techniques and bird anatomy.
"Residing on isolated islands for long periods has not been a problem for me. On the contrary it has really been a whole new way of life and I can say that it has contributed significantly to my personal development," explained Terence.
He said remote Islands offer the right atmosphere for research and monitoring.
"Island life also has its own time of delight especially during the north-west monsoon when we welcome visitors to our shore and share with them the beauty of the islands," he added.
Generally keen about all aspects of the natural environment with a particular interest in marine life, Terence is also fond of birding, especially migratory birds and waders that visit the country yearly.
While on eradication project on Assumption, Terence started working on photographic herbarium for the island and with the help of the SIF, he intends to produce it on the foundation's website.
He describes environmental science as fascinating with potential for development. This, he said, will keep him in the field.
"I am always thinking of Aldabra and I long for my return there," concluded Terence.
Compiled by Roland Duval