Elderly honoured during President's Plaisance visit
28-November-2012
President Michel, who later said that this was "one of many more visits to come", was welcomed at the Plaisance district administration (DA) office by Designated Minister Vincent Meriton, who holds the portfolios for social affairs and community development, principal secretary for community development and sports Denis Rose, the district's member of the National Assembly Roma Aglae, administrator Claudette Louise, and the chief executive of the Land Transport Agency, Parinda Herath.
Following talks with the district officials, during which community activities were reviewed and challenges discussed, President Michel pressed for youths to be more involved in community activities and be part of the district.
He later told the press that he likes to remain in contact with the communities to be better informed of the problems and challenges they are facing.
He said the tour of Plaisance is "one of many more visits to come" and he likes to set the example.
"That is why I urge ministers and other government officials as well as MNAs to remain in touch with the community, to find out what can be done and where things need improving."
The President next went to Copolia, where he and his entourage stopped at the home of 82-year-old Eva Charles.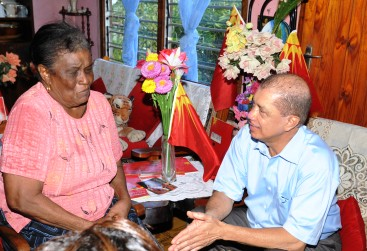 Ms Charles, who had known the President when he was still a schoolboy at Anse Boileau, got emotional when she saw him, thanking him profusely for the visit.
She has been residing at Copolia for 31 years with her 66-year-old nephew Gilbert Pharce, who is disabled.
Ms Charles has a carer who lives at Anse Boileau, helping them from 7am to 3pm.
She however said that she is still strong to attend to her immediate needs such as making breakfast.
At the Plaisance home for the elderly, President Michel and his delegation met the 17 residents there. They come from Plaisance, Mont Fleuri, Roche Caiman and Les Mamelles areas. Among them is a couple, former Anglican pastor Fr Peter and his wife. The eldest resident is Jeanine Rosalie, 95 years old.
The President told the residents he loved them all and he had come to see how they are living together, within a community.
He asked them to talk frankly, assuring them that he will see to it that everything possible is done to secure their comfort and dignity.
One resident, Florida Lawrence, said the home required fencing as intruders were using the area behind the laundry for drinking and being generally a nuisance.
She also said there was no hot water in the bathrooms, which meant residents had to boil water in the kitchen for their baths.
President Michel agreed that for persons of their age, hot water for washing was a necessity and assured her that the problem will be addressed.
Minister Meriton said funds had already been budgeted to fence the home and this will be done next year.
He also said that solar panels will be used to provide the home with hot water.
Father Peter, who is a naturalised Seychellois after serving for many years in Seychelles, also thanked President Michel for the visit, adding that every day, prayers are said in this home for him and for this nation to be wisely governed.
The final stop was at Belvedere to view the newly completed Mona Road.
One resident, Helena Pereira, surprised at seeing the President, embraced him and thanked him for throwing his support behind the completion of that road.
"I had nearly lost hope," said Ms Pereira, who said she had allocated her share of the land since 2003 for that project.
Mr Herath told the press later that this part of the secondary road, which links with the Belvedre road, had been delayed because of some legal issues involved, which had to be addressed and negotiated. When everything was set to build that 50-metre stretch of road, there were other obstacles, such as boulders to be removed and boundary walls to be erected.
"After that we moved fast," he said.