Tennis: Vijay league-Lift & Slice champions
28-November-2012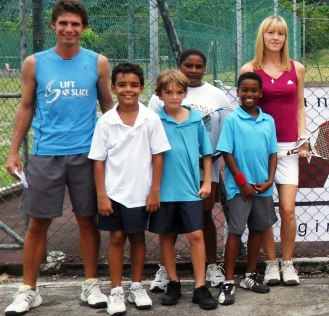 Comprising three of the country's best junior tennis players – Damien Laporte, Shaun Andriamaro and Theo Barois – French coach Frederic Canale as captain and female players Marie-May Isnard and Tania Solovieva, the Lift & Slice team met Spitfire in their last match at the weekend and won 3-2 to be crowned champions.
Each fixture comprised five matches – two men's singles, one women's singles, one men's doubles and one mixed doubles. Teams fought for five points each time they were in action and the competition was played on a two-leg round robin format.
Spitfire had to win three points in the title decider to be crowned league champions and they rushed to an early 2-0 lead after Steven Rideau-Mein beat Laporte and Valerie beat Isnard. Canale reduced the deficit to 2-1 when he beat Sylvester Delpech in the second men's singles match.
With their 2-0 (6-1, 6-3) mixed doubles win against Thara Hoareau and Hip Waye, Laporte and Isnard tied the overall score at 2-2.
In the decisive fifth men's doubles game, Canale and Andriamaro struggled against Delpech and Rideau who won the first set 6-3.

Canale and Andriamaro changed their playing tactics in the second set which they won 6-2 and then went on to claim the super tie-break third set 10-8 for a 2-1 win to earn their team the title.
Club 2000 finished third, Academy fourth, Eden Island fifth and Rotary sixth.