Table tennis-Sultan, Bristol clinch November challenge and year's best titles
28-November-2012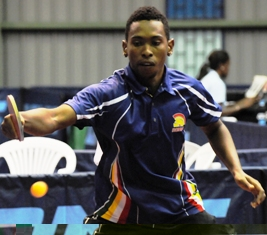 They have also been named the best players for 2012 in the senior categories, while Nicholas Esther and Zahira Khattab are the best young male and female players.
The player of the year award is the seventh consecutive for Sultan after winning it in 2006, 2007, 2008, 2009, 2010 and 2011. As for Bristol, this is her first win after claiming the best young player award last year.
Sunday's competition was spread over six categories which started on a league basis, before moving to knockout stages.
In the men's division one final, Sultan twice came from behind to beat Achille Dodin 4-2. After losing the first set 6-11, Sultan fought back to win the second one 12-10 and level the match at one set apiece. He fell behind once again after the third set which he lost 6-11, before picking himself up in the fourth set which he won 11-5. Sultan then won the fifth and sixth sets 11-9 and 11-8 respectively to win the match and the November challenge title.
Bristol, on the other hand, had little resistance in the ladies' division one final against Laura Sinon. After winning the first three sets 11-6, 11-4 and 11-8, Bristol loosened her grip on the game to lose the fourth set 8-11. She, however, managed to regain her momentum in the fifth set which she won 11-7 and the match 4-1.
In the boys' division two group, Mario Lablache was the grand winner after defeating Richard Morel 3-1 in the final. The set scores were 8-11, 11-7, 12-10 and 11-6. Shawn Lai Lam finished third in this group.
In the girls' division two category which attracted six players, Chinese Niu Niu was the grand winner after defeating Emlyn Quatre 3-1 in the final. The set scores were 11-7, 12-14, 11-9 and 11-4. Zahira Khattab was third in the group.
A 3-2 (8-11, 11-7, 4-11, 11-7, 11-7) victory over Mael Youpa earned Philip Sham Hong the top prize in the boys' division three category, while Dylan Simeon finished third.
Emma Ah Wan came from a set down to win the girls' division three group with a 3-1 victory over Kim Hoareau. The set scores were 7-11, 11-5, 11-5 and 14-12. Joelene Mondon was third in the group.
R. D.