'Investing in early childhood key to children's progress'
29-November-2012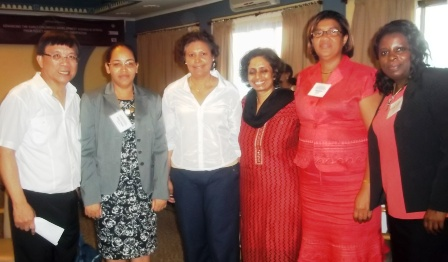 This was one of the messages that came out strongly in a recent conference held in Dar-Es Salaam, Tanzania, on early childhood development (ECD).
The conference was co-hosted by the World Bank, in collaboration with the Global Partnership for Education (GPE) and the United Nations Children's Fund (Unicef).
The event brought together delegations from across the continent, including Ethiopia, Gambia, Ghana, Kenya, Liberia, Uganda and Seychelles.
Among its aims, the workshop stressed on advancing investment in early childhood development policies and quality programmes as essential components of efforts to 'learning for all'.
A delegation from Seychelles attending the workshop comprised head of delegation Shirley Choppy, who is also the chief executive of the Institute of Early Childhood Development. Also in the delegation were the director general for schools Odile Octave, principal social worker Beryl Laboudallon, and a representative from the Ministry of Health.
The team are from various sectors of the government, but are also chairpersons of technical teams for early childhood in their ministries.
In an interview with the press last week, the delegation said the workshop was an opportunity for them to share experiences and to make known what the country has been doing in regards to early childhood development.
They also met representatives of various essential international partners, such as from the World Bank, GPE, and Unicef, whose aid with technical assistance are prized.
Mrs Choppy said they – like other countries – presented a country report on the achievements that Seychelles has made, policies in force and programmes developed on early childhood, and also existing opportunities that can be used to advance early childhood development here.
"One of our biggest achievements is that we have a 100% enrolment rate, every child goes to school here, whereas in certain countries their enrolment rate is as low as 6%," she said.
She added that they also spoke on the challenges Seychelles faces in ECD.
"There were various presentations given by the organisers, who are carrying out a massive project on promoting ECD on the African continent, and shared with us their findings and we also had discussions and gave our opinions on their findings," she said.
"Their presentations focused on three policy goals for ECD, which are finance, implementation, and finally capacity-building."
Mrs Choppy said that multi-sectoral collaboration was stressed during the workshop, and this is a message that Seychelles should take up strongly.
"It is important for all ministries, departments, partners, essentially all stakeholders, come together for the development of ECD," she said.
"Although small, Seychelles has made a lot of progress in ECD compared to other countries, and is in fact an example to others, although much work remains to be done and much has also been gained from the workshop."
The way forward is that all countries now have to work on a short, medium and long-term plan for ECD and also the policies they plan to implement, as well as those that have been implemented after the workshop.
Mrs Choppy said they also plan to have talks with the authorities on better funding for ECD in Seychelles, and to put in place mechanism for multi-sectoral collaboration.