Central Bank lecture looks at our economic turnaround
01-December-2012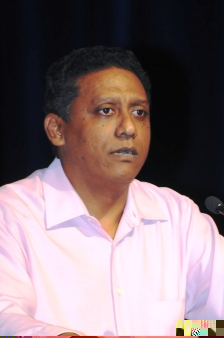 He reminded delegates how the various arms of government worked together for common goal, starting with the National Assembly enacting a new law that paved the way for the reforms that were courageously announced by President James Michel the same evening.
He paid tribute to all of us for our understanding and the staff of the Central Bank and of the Ministry of Finance and other organisations who helped usher in the International Monetary Fund (IMF) led reforms which he said brought macro-economic stability in just 18 months.
The guest speaker for this year's event is Dr Atish Ghosh, the assistant director and chief of the systemic issues division in the research department of the IMF.
He stimulated debate during his presentation by giving examples of the various foreign exchange regimes that have been used in various countries, saying how they fared, and invited the delegates to look at the likely future of our economic performance.
The lecture is entitled Exchange rate regime and economic development – the case for small island states.
Central Bank governor Caroline Abel said after a series of internal discussions of possible themes, the one chosen "became the most prominent given that it is at the very heart of our economic fabric as an individual, business entity or the government.
"The topic became more appealing by the day given the challenges and critical decisions that had to be made by the Central Bank during the course of the year and the impact those decisions have on the rest of the economy," she said.
Ms Abel said given our country's smallness and openness, the exchange rate has always been a key factor. Being dependent heavily on the rest of the world, exports represent a notable component of the country's output while more than 90% of goods consumed are sourced from overseas.
"With recent developments in the foreign exchange market, the significance of the exchange rate as an important price – given its strong and direct relationship with earnings of the export sectors and the domestic general price level – has been highlighted," she said.