Unity Relay 2012-Second title and new record for East Coast Athletics club
03-December-2012
Led by Simon Labiche, the East Coast Athletics club clocked 4 hours 08 minutes 29 seconds (4h08:29) to better their old time and the race record which stood at 4h21:55.
The other team members are Simone Japha-Dick, Keddy Moustache, Samuel Moustache, Yannick Magnan, Mederick Jean-Baptiste, Gordon Payet, Hillary Robert, Roy Jean-Baptiste and James Barra. They received R10,000 as first prize.
A total of 26 teams took part in Saturday's 85km event which started at Stad Linite and they all completed the distance, while 11 improved their times.
On reaching the Unity monument, the competitors ran along 5th June Avenue and then headed for Anse Etoile, North East Point, Glacis, Beau Vallon, Le Niol, Curio Road, Sans Soucis, Port Glaud, Grand Anse, Anse Boileau, Baie Lazare, Anse Royale, Anse Aux Pins, Pointe Larue, Cascade and Plaisance and Mont Fleuri. Only one runner ran from Le Niol up to the Sans Soucis junction via Curio Road to avoid congestion on the narrow road.
When the last runner on each team reached the Unity monument, teammates joined him/her on the final leg of the race, which finished in front of the Post Office.
Each team were made up of a maximum 10 members, including at least two men or women.
Scorpions from the Seychelles People's Defence Forces with Ivan Moïse, Colin Francourt, Kevin Damoo, Anthony Lebon, Travis Forte, Jemmy Anacoura, Dean Madeleine, Wilette Faure, Verona Matatiken and Bryan Radegonde finished as runners-up in 4h09:32 to pocket R8,000.
Last year's winners Special Force Unit (Tazar) were relegated to third spot overall this time with 4h12:10 to win R6,000. Despite finishing third, Kenneth Annette, Freddy Monthy, Danny Philoé, Cyril Edmond, Nigel Albert, Cyril Freminot, Ian Botsoie, Richard Francourt, Maggy Harray and Catherina Freminot managed to better their last year's winning time which was 4h23:14.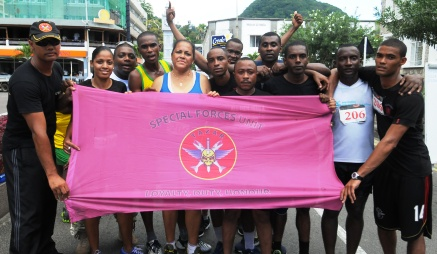 Both Scorpions and Tazar finished the race inside the old record time of 4h21:55.
The Seychelles Police Academy finished fourth in 4h30:52 to get R4,000, ahead of the Anse Royale secondary school team who pocketed R3,000 after finishing fifth in 4h34:33.
According to Labiche, the main strategy for winning was to push all the athletes to the maximum.
He explained that their initial target was to take the lead as from the first 5km and to maintain the rhythm. "Whenever being closed down, we used speed endurance to open the gap," he added. This, he said, was very effective in maintaining their lead.
"It was a very fair competition and we are very happy that we won," added Labiche, who has promised to be back next year.
The prize for the youngest team (when the ages of all members are added up) went to Bonjour Parfum with a cumulative age of 115 years and they finished 16th in 6h56:22. With their team members' ages adding up to 507 years, Albatros took the oldest team prizes and 15th place overall with 6h31:37.
Ranked fourth in 4h30:52, Seychelles Police Academy took the prize for the educational institution with the best time.
Bonjour Parfum, Albatros and Seychelles Police Academy each won R2,000. There were also five lottery prizes of R1,000 each.

Results of the Unity Relay:
1. East Coast Athletics Club –4h08:29
2. Scorpions (Seychelles People's Defence Forces) – 4h09:32
3. Special Force Unit (Tazar) – 4h12:10
4. Seychelles Police Academy – 4h30:52
5. Anse Royale Secondary School – 4h3433
6. Constance Ephelia Resort – 4h58:24
7. Mahe Runners Club – 5h13:12
8. International School Seychelles – 5h17:44
9. Eden Island Flyers – 5h25:26
10. Community Development 2 – 5h31:40
11. Gecko – 5h35:25
12. Ecole Française – 5h54:32
13. Berjaya Beau Vallon – 6h21:16
14 Community Development – 1: 6h30:02
15. Albatros – 6h31:37
16. Bonjour Parfum – 6h56:22
17. President's Village Children – 6h56:34
18. SBC – 7h21:51
19. The Seychelles No-Stars – 7h35:55
20. The Crawlers – 7h3620
21. Seychelles Hash House Harriers – 8h03:17
22. National Assembly – 8h19:17
23. Anse Aux Pins primary – 8h22:09
24. NIHSS – 9h11.32
25. State House – 9h38:29
26. Movers – 10h45:42
R. D.