Russian investors discuss business opportunities in Seychelles
04-December-2012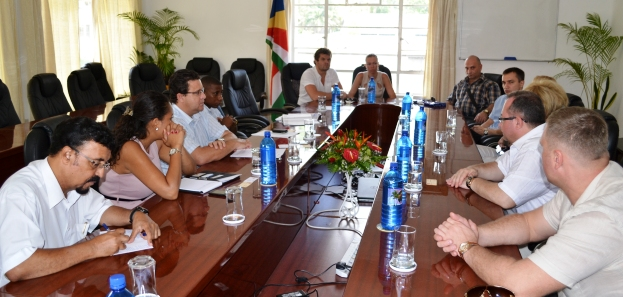 Headed by Melik Sarkisyan, the 10-man delegation was accompanied by Gwilym Sicobo and Victoria Contoret of SIC Corporation, a trade and investment representative of Seychelles in the Czech Republic. Mr Sicobo, who has lived in the Czech Republic for four years, is also Seychelles' tourism ambassador to that country. Lawyer Daniel Belle was also present at most meetings.
The Russian investors met several ministers, namely that of Finance, Trade and Investment Pierre Laporte; Home Affairs and Transport Joel Morgan and Tourism and Culture Alain St Ange.
They also held talks with the governor of the Central Bank Caroline Abel and the chief executive of the Seychelles Investment Board Sherin Renaud.
With Minister Morgan, the delegation discussed water recycling projects for multiple uses.
Mr Sicobo said it is a field in which Russia has advanced technology.
The possibility of turning Port Victoria into a transshipment centre in the Indian Ocean was also discussed.
With Minister Laporte, possible areas of investment included building factories to manufacture goods for export to the region. One such item is leisure boats.
One member of the delegation is a specialist in wood and the possibility of manufacturing timber products was also discussed.
At a welcoming dinner at Eden Island, the Russian investors were welcomed by Minister St Ange.
"We need to state that we are one of very few countries where you will receive the following incentives as investors. Seychelles is a very safe country and there are no foreign currency controls, giving you the liberty to repatriate your investments, as and when you so desire," he said.
Most of the delegation leaves Seychelles tomorrow.