Relevant issues discussed on Latin America medicine day
04-December-2012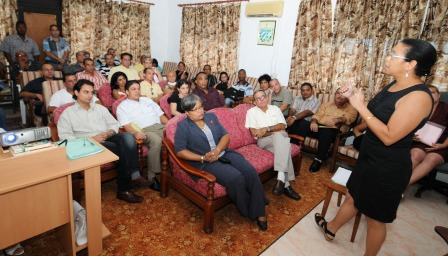 Celebrated annually, the event has been organised here for the last 10 years. Cuban doctors living and working in Seychelles, along with other doctors who have studied in Cuba gather to share views on pertinent medical issues.
Saturday's event was held at the Cuban embassy at Bel Eau, where a number of various health professionals, including consultants and specialists, gathered and over a dozen power-point presentations were given – in both English and Spanish – and discussions on them held.
Topics included but were not limited to palliative care, operations, emergency medical technician, dermatology, physician, and nephrology.
A member of the medical community said those present had a lot to share about their daily work, new techniques and technologies being used nowadays, and the type of care they give to patients.
"It is important and useful for us to see the same problem but approach it from different points of view," he said.
"Patients also benefit since they can get new ways of being treated, and benefit from better technologies, once available."
Speaking to Seychelles Nation, Dr Susan Fock-Tave, who had given a presentation about palliative care in Seychelles, said the type of care is a requirement of the World Health Organisation – and focuses on care of people who are terminally ill and their family – and that although new to Seychelles this is an area that should be focused on and expanded.