Members of judiciary and legal profession discuss women rights
13-December-2012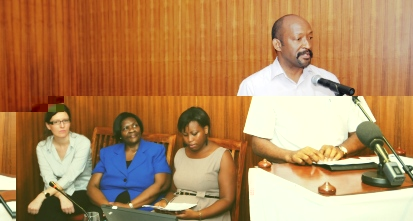 Minister Meriton addressing guests and delegates at the workshop
This was at a workshop held at the Coral Strand Hotel, organised jointly by the government, the Office of the High Commissioner for Human Rights in Geneva (OHCHR) and its regional office for southern Africa.
Addressing the delegates who included judges of the Court of Appeal and the Supreme Court as well as magistrates, Designated Minister Vincent Meriton, who is also the Minister for Social Affairs, Community Development and Sports, said equality of the sexes is the cornerstone of every society.
He said that unfortunately women are often subjected to inequalities, which are detrimental to them.
Speaking on domestic violence where women are usually the victims, Mr Meriton said that unfortunately, this usually happens in the private sphere or intimate space of the family home where one is supposed to be loved.
He said the appropriate legislation is being enacted to address domestic violence, but pointed out to the judiciary and legal officers that laws mean nothing if not well implemented.
Violet Awori, expert of the United Nations committee on the elimination of discrimination against women, noted that in December 1948, three years after the setting up of the United Nations, the universal declaration of human rights was adopted.
She said that since then most of the rights have been converted into obligations, adding that there are nine core treaties pressing for non-discrimination and equality. Among these is the treaty on the rights of the child which is also against child abuse, child pornography and child labour.
There is also the right to work and equal remuneration, which also includes no dismissal on the grounds of pregnancy, maternity leave and marital status.
Ms Awari also underlined the importance of equal access to health care, including family planning.
The delegates also heard from Mahrookh Pardiwalla, gender expert specialised in education.
She spoke of the high literacy rate in Seychelles and how in most cases, girls perform better than boys. Discussions also focused on political involvement. It was noted that while women hold a high percentage of executive posts, the top echelon of power is still held by men.