Foreign Affairs ministry opens doors to public
14-December-2012
'Seychelles foreign missions – closer to the community' is the theme chosen for this year's open day which was officially opened yesterday at the ministry's headquarters at Maison Quéau de Quinssy.
Among those present at the opening ceremony were Designated Minister Vincent Meriton and other ministers, principal secretaries, members of the diplomatic corps, other high government officials and Ministry of Foreign Affairs staff.
Members of the public will have the chance today to visit the ministry's headquarters to learn more about the Foreign Affairs work, the Seychelles diplomatic missions abroad and international organisations among other exhibits.
Addressing those present at the ceremony, principal secretary for foreign affairs, Maurice Loustau-Lalanne said since 2004 the ministry has grown from two foreign missions to 10 by November this year.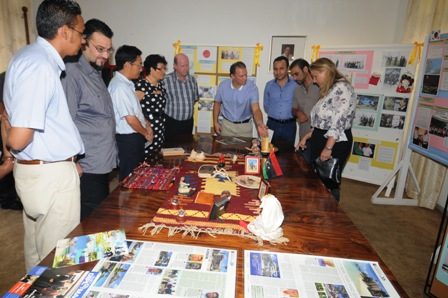 Seychelles is represented overseas by 10 ambassadors, 86 honorary consuls in 59 countries and it has diplomatic relations with 150 countries. Eight countries have permanent missions in Victoria and 20 are represented by their honorary consuls.
A new mission in Addis Ababa, Ethiopia has been opened recently this year.
He added that the ministry has worked under the financial, human and technical resources constraints while embracing plans to modernise, expand and upgrade its institution and services.
In his speech, Foreign Affairs Minister Jean-Paul Adam said the ministry's open day is symbolic of the way in which Seychelles' active diplomacy aspires to make us better connected to the world as well as with our own community.
"With our embassies, we are projecting a strong image for Seychelles, while also providing support to Seychelles' strategic and economic interests, as well as helping expatriates and travelling Seychellois as much as possible in terms of visa and consular assistance," he said.
Mr Adam said the embassies have played a critical role in supporting the enhanced engagement of Seychelles internationally.
He also thanked the states who have embassies based in Seychelles for helping the country to be better connected to the world at this time of great uncertainty.
After addressing those present, Mr Adam cut a cake to mark the occasion and guests were invited for a guided tour inside the building to view the exhibition mounted.
Guests also had the chance to see how an accreditation ceremony takes place.