Stakeholders seek to boost effectiveness of school nutrition policy
15-December-2012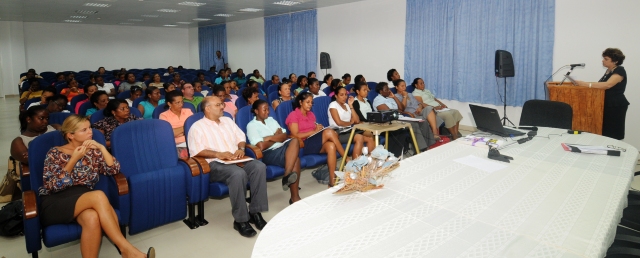 This was through a one-day workshop held at the Sheikh Khalifa conference centre at the Ministry of Health.
The workshop included different presentations concerning children's nutrition at school, childhood obesity and other related issues.
It was led by the chairperson of the school nutrition committee, nutritionist Veraine Louis-Marie and its vice-chairperson Marina Jacques who is the director of student affairs and careers within the Ministry of Education.
Members of the newly launched committee include representatives of Natcof, Seychelles Licensing Authority, ministries of health and education, Pillay R Group of companies, among others.
Addressing those who had turned up for the discussions, Ms Jacques said it is important that all parties concerned in ensuring that effort to help shape the eating habits of our children meet frequently to take stock of and evaluate the effectiveness of the work being done.
Public health director Shoba Hajarnis noted that the statistics of obesity in children are worrying, thus the need to continue to improve on the types of food children eat, especially when they are at school.
Dr Hajarnis noted that at present a lot is being done by different stakeholders but amid increasing aggressive advertising of unhealthy foods, a lot more has to be done to prevent children from consuming unhealthy foods and thus reverse the trend of obesity among children.
During the presentation session, Dr Hajarnis handed over a set of manuals of dietary guidelines developed especially for teachers to be used during Personal and Social Education lessons.
Ms Jacques said the manuals will be a good and effective tool and assured Dr Hajarnis that they will be put to good use.