Seychelles Youth Award 2012-More than 70 youths rewarded for exemplary and leadership qualities
15-December-2012
This year's youth award ceremony, organised by the Seychelles National Youth Council (SNYC), saw 73 young people receiving awards in four main categories. Each category sought to reward young people for various achievements, such as participation, exemplary behaviour, success, contribution and effort either at school or work.
These were for positive youth image – at both primary and secondary school level, young animators, careers excellence, and special youth award.
It was a night of excitement, as the venue was packed with people, who included Designated Minister Vincent Meriton, other cabinet ministers, high-ranking government officials and staff of the SNYC.
Minister Meriton addressed the audience, saying it was a proud moment for many young people and those who sought to achieve in life should practice values such as discipline, respect, ambition, enthusiasm, hard work and perseverance.
"It is these values that we want to see in all our Seychellois youths, since it is these young people who are our future. And those being awarded today have shown these qualities and more, and have even raised the bar of excellence," he said.
"We are today witnessing how those who really want success have strived to get it and are today reaping the fruits of their hard work. If someone wants to really succeed, nothing is impossible, and opportunities are there to be seized, so these awardees today have made good use of them and I ask all young people to seize such opportunities and you will all have to support of the government in doing so."
He asked those who have succeeded to help others to also achieve, and told those who have started on their paths to stay focused.
A large number of young people were awarded for the four categories, with five people from four departments being awarded for careers excellence. These were people from the health, education, police departments as well as from the Seychelles Public Transport Corporation.
In the special youth award, Nisa Payet, Carlos Roucou and Romario Bouzin clinched the top prize and were given their prizes by the Minister for Health Mitcy Larue.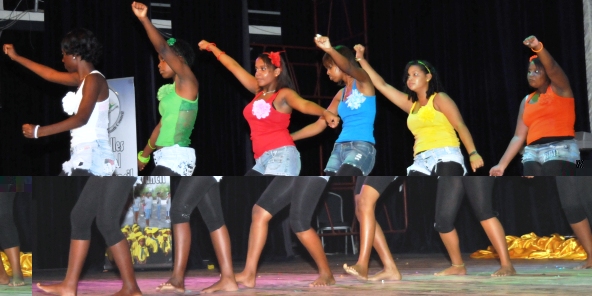 Among the various prizes for the awardees were certificates, trophies and accommodation on various islands.
The event was also well animated with original and very entertaining pieces, performances such as musical ones from Classical Soul Group, song from popular artists Sandra, Ion Kid, Master Emel and up and coming Daniello. There were also well-synchronised dance performances put together by various regions of Mahe.
Stand-up comedian Colin also had the audience in stitches with a rib-tickling performance, but which also had a serious message attached to it, telling young people that they all can achieve if they only put their minds to it.
The evening continued after the ceremony with entertainment in the conference centre lobby with all present merging to socialise.