Theme songs maestro Joe Samy pulls out new CD
15-December-2012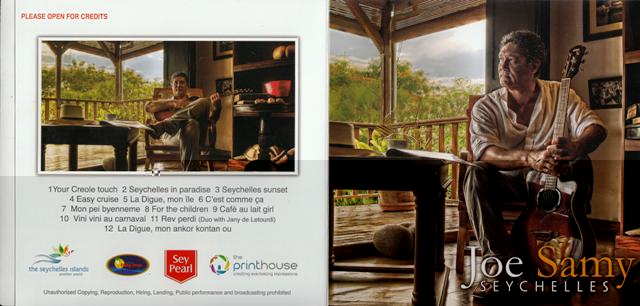 One song entitled La Digue mon Ile is a French version of one of his most popular Creole numbers La Digue mon ankor kontan ou, which also features on the album.
Joe was commissioned by the Ministry of Tourism to do a French version of this song as a tourism marketing tool for the French markets of France and Reunion.
Another song on the album is Mon pei byenneme which Joe has performed publicly at one or two official ceremonies, namely at this year's flag raising ceremony for the Independence Day anniversary at the Voice of the Nation monument, as well as at the unveiling of the commemorative plaque in Victoria marking the great avalanche of 1862.
Others, such as 'Seychelles in Paradise' and 'Seychelles Sunset' are typically Joe and sung in glory of the beauty of his island home, with a touch of romance.
In another, he sings 'Love is just an easy cruise in Seychelles, kick away the blues'. Enough to get anyone dreaming and jumping on the first available plane to our islands.
Vini, vini au Carnaval is an open invitation to join the big crowd for fun at the Carnaval International de Victoria.
Other tracks on the album are 'Your Creole touch', C'est comme ça, 'For the children', 'Café au lait girl' and Rev perdi.
Joe was recently in Hong Kong publicising Seychelles with his collection of songs. Bustling Hong Kong, one of Asia's main financial centres, is a new market which Seychelles hopes to tap next year when the national carrier, Air Seychelles, takes delivery of its new Airbus A330.
It's a good bet that now that Joe Samy is back, so full of 'joie de vivre', we shall be hearing of him often.
J. L.