Two graduates attend first virtual convocation of India's Amity University
17-December-2012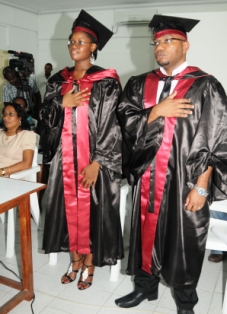 This comes after having successfully followed two-year distance courses, obtaining an MBA in Business Administration.
The graduation, held at the India-Seychelles centre for excellence in ICT of the University of Seychelles (ISCEICT), was watched online by students Benilda Cupidon, an A-Level lecturer, and Garry Jupiter, a senior employee of the State Assurance Company of Seychelles (Sacos).
Also present were University of Seychelles (UniSey) vice-chancellor Marina Confait, dean of the faculty of science Sherley Marie, the acting Indian high commissioner Charanjeet Lal and Benilda' mother Greena Cupidon.
Students from over 20 African countries, including Seychelles, Mauritius, Madagascar, Uganda, Tanzania, Sudan and even the Somali autonomous province of Puntland, had registered for the online diploma courses in various subjects.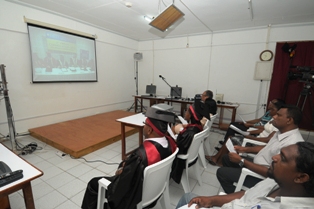 Launched at Amity University, Uttar Pradesh, it is a new way of teaching with lectures and assignments done online. Though it has the convenience of allowing students to study from home, they had to be present at the centre on Thursdays.
Watching on screen at the ISCEICT, both students joined colleagues around Africa in putting their hand across their chest as their diplomas were conferred upon them by the acting chancellor of Amity University.
They stated: "I do hereby solemnly pledge that I shall be worthy of the degree conferred upon me" and were applauded by those present.
They were also addressed by the founder president of Amity's Pan-African College, Dr Ashok Chauhan, who launched the project in 2010.

He said he was overjoyed at the success of the programme which is to benefit thousands of young Africans.

Dr Chauhan said Africa, with great natural resources and human potential, is poised to be among the first row of nations in the not too distant future.
Dr Marie said the two graduates are from a group of 10 which had initially registered and some dropped out for various reasons
She said that another online programme is being launched next year by the University of Madras and there have been 15 letters of interest to date.

According to Mrs Cupidon, Benilda is her third child to enroll for university education. She presently has two other children studying in Australia and South Africa.
This prompted Ms Confait to comment that President James Michel's vision of "one university graduate per home" is in some instances being surpassed!