Well wishers surrender birthday gifts to cancer body
17-December-2012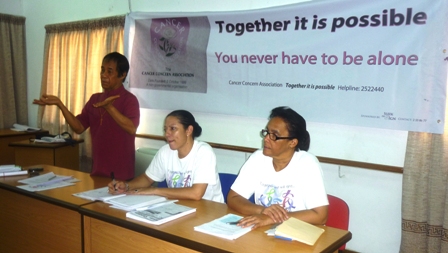 CCA chairman retired Bishop French Chang-Him said this in his report when most of the organisation's 380 members met at the Exiles club recently.
Thanking the supporters, Bishop Chang-Him said the CCA has many needs, for example supporting people affected by the condition who have to travel overseas for treatment or to accompany relatives, or to meet some of their needs which arise locally due to being affected by the disease.
Besides members of the association, also present were doctors who shed more light on the condition amid a call by the chairman for education on the disease to be stepped up.
"Besides funds from the faithful contributors, we are deeply encouraged by unsolicited donations – some very substantial – which we have got this year," he said.
He said the response clearly showed recognition for the work the CCA is doing and the fact that there has been a lot of debate about cancer in the National Assembly.
"We can only be grateful for the support the association is getting," he said.
He updated members on the new efforts – to support affected children – being made through synergy with the Seychelles Children's Foundation, which is headed by First Lady Natalie Michel.
Paying homage to the late Dr George Panovsky, Bishop Chang-Him said many cancer patients are grateful for the much support they got from him, but noted there is need to replace the doctor with another resident oncologist.
He said a musical show has been organised for the last weekend of January 2013 to raise funds for the CCA, and tickets are already available.
He said too much of the association's work is being done by women, and he called for more male volunteers.
"It is most important that our support base is increased," he said.