Stakeholders discuss draft of new national policy on protected areas
17-December-2012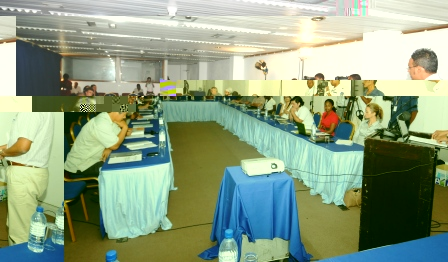 The policy document was derived from a consultation process involving as many as 25 organisations and started in January this year.
The main aim of the workshop was to get relevant stakeholders and partners to validate the final draft of the national policy for protected areas in Seychelles and eventually get Cabinet's approval.
This component falls under the UNDP's "Strengthening Seychelles' protected area system through NGO management modalities.

The contract for this project was signed between the government, through the environment and UNDP in March 2011.
Opening the workshop, Alain de Commarmond, standing in for the principal secretary for Environment and Energy, noted that one of the proudest achievements of Seychelles in virtually every national report and speech is our success in setting aside close to half of our lands as protected areas.
This represents 21 formal protected areas, covering an area of over 54,000 hectares and there are in addition a number of other sites managed as de facto "wildlife sanctuaries".

Such areas, he noted, have been established since the 1970s for multiple reasons.
Most importantly, they are to protect biodiversity where it is most abundant or vulnerable and/or to protect land and seascape values.

Mr de Commarmond said they are equally beneficial to key sectors of the economy, notably fisheries and tourism. For instance, the Curieuse protected area alone was visited by 24,033 visitors in 2011 and the Ste Anne Marine Park by 14,750 visitors that same year.
He added that terrestrial protected areas also play a vital role in diversifying our attraction as a tourism destination and also in some cases to provide vital protection for our watershed areas.
"However, in spite of this great achievement, many challenges remain pertaining to the well-being of our protected areas and its management.
Issues such as the impacts and pressures of development, poaching, malpractices by park users, such as leisure boat operators, security issues along trails, to name just a few, are of great concern to us."
Mr de Commarmond said it is therefore important to sustain management efforts of these areas, that we have a strong policy that dictates the vision and objectives that we want of them, a policy that dictates a clear, systematic manner by which protected areas are recognised, established, managed , financed and also ensuring maximum involvement and participation of stakeholders and the public in decision making.

He noted that this participatory approach is being followed. Only recently, the Minister for Environment met Praslin boat operators to get their views on issues of concern in the Curieuse and Ile Cocos protected sites.
The main issues at the meeting were service facilities on Curieuse, mooring facilities on both islands, park fees, discipline of park rangers and boat operators themselves.
After underlining Seychelles' pioneering role in conservation globally, UNDP's Seychelles representative, Helena Francourt, said however the only official national policy specific to protected areas in conservation is derived from the "Seychelles Tourism Policy 1969" and the "National Parks and Nature Conservancy Ordinance" of that same year.

"There is hence a need to develop a Protected Areas Policy for Seychelles," she said.

Ms Francourt noted that protected areas are regulated under different legislation, such as the National Parks and Nature Conservancy Act of 1969 and the Wild Animals and Birds Protection Act of 1961.
She said a new and re-organised protected areas system will include a range of protective mechanisms that provide a fundamental underpinning to sustainable development within the country.

This, she said, will encourage all Seychellois and visitors to respect and understand the natural world in a manner which will contribute towards a sustainable economy, without reducing the opportunities available to future generations.
The new protected areas system will also provide a focus for protection and restoration of both land and marine endemic species and their respective habitats, in an effort to restore the various ecosystems in the archipelago.

The new protected areas legislation will be further complemented by the Physical Planning Act, a revised Fisheries Act and a revised Environmental Protection Act.
Each of these new laws will have the support of relevant legislation needed for their respective implementation.